Service Name
Hair Extensions
Hair Extensions
The popularity of hair extensions for making natural hair look and feel thicker knows no bounds. Choosing the right extension hair product, along with the right type of fitting and aftercare is essential for preserving your beautiful thicker locks.
At Image & Co, we only use the very best natural hair extension products:
Cuticle European hair extensions

– this is hair with the cuticle of the hair is intact. This protects the hair shaft from UV light, heat and chemical products. Choosing this hair type will see you enjoy the best quality hair extensions product. An intact cuticle prevents the hair strand from breaking and splitting. When this happens, the hair becomes thinner, significantly impacting on the life of the extensions. This is especially true in hair extensions that have been overly bleached or dyed. The more durable option, European cuticle intact hair extensions will last for many months to come, especially if it is looked after well.

Indian Remy hair

– the best hair for extensions is not just European hair that has received little chemical processing. Indian Remy hair extensions are all-natural and when cut from the donor, the hair cuticles are all in the same direction, with no shedding or tangling. For tangle-free luscious locks, this is the best weft hair type for an affordable option.
Both hair types are reusable too. Coupled with our three-month guarantee and superior aftercare support package, both European and Indian Remy hair extensions can be used several times.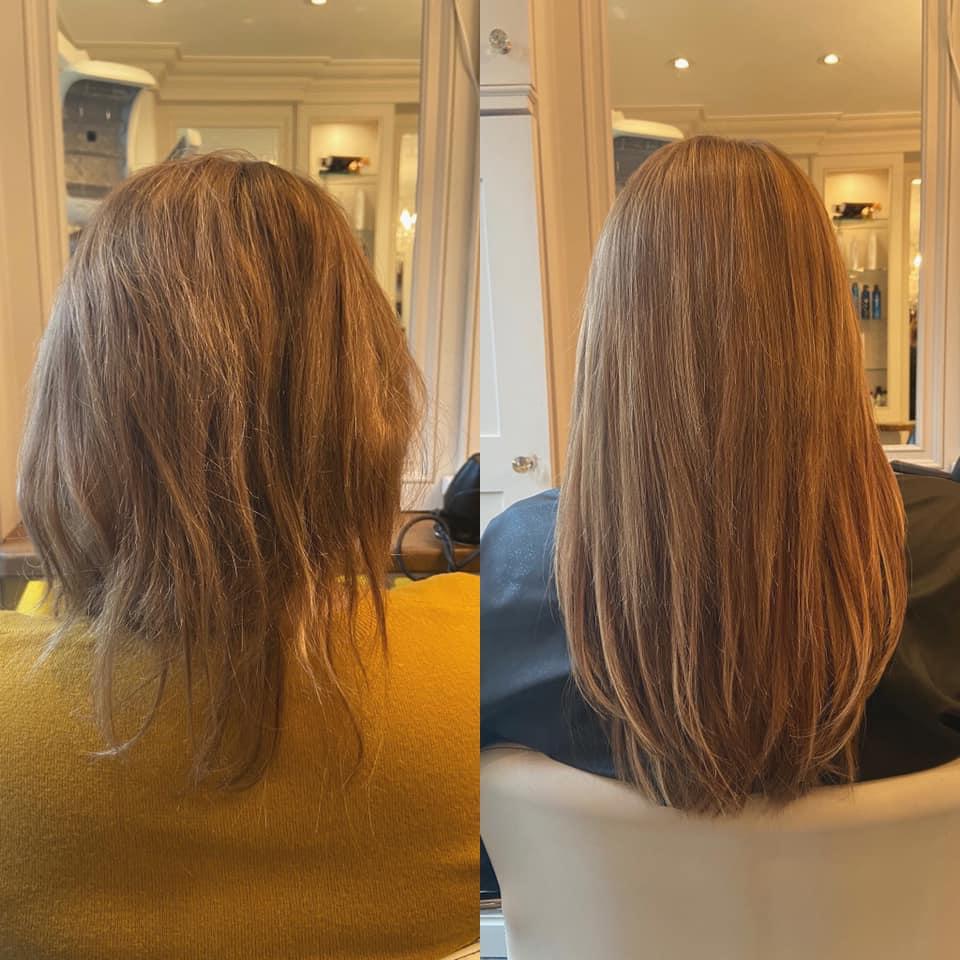 Hair extension fitting
The method used to bond or fit your hair extensions is important too. You don't want your natural hair damaged and you also want your hair extensions to look full and tangle-free. Our team have been trained by Racoon International & Hair Development. Our training combined with nearly three decades of experience makes for a brilliant hair extension fitting service.
The types of Hair Extensions we offer are:
Bonded – Attached using a polyamide glue. This method is best for blending colours, especially in highlighted or lowlighted hair. They come in 14 and 18 inches. These can be reused, but each time will lose a small amount of length as they are trimmed and rebonded. Bonded extensions are usually replaced after two fittings.
I-Tip Regular Strands – Attached using a small I-Tip silicon connection. This method is good for longevity as the extensions keep their length after each fitting. If properly cared for, this method can last for up to 12 months with regular 3-4 month refits.
I-Tip Mini Strands – All the benefits of the regular I-Tip Strands, but are also available in 14 inches and are more suited to those with finer hair. These are great for adding length, thickness and body.
HD Elite Weft – A nano weft extension incorporating our European Supreme quality hair. A flat and discreet non-shed weft designed to be comfortable to wear and gentle on your natural hair.
Each weft has nano connection points to evenly distribute the weight. HD Elite strongest links are curved on every edge helping to avoid damage to your hair.
Installation is fast as each extension is fully pre-loaded with our polymer pulling loop and laser cut precision, with a full head fitted in 90 minutes.
Hair extension aftercare
The hair we use to add fullness to your own hair is natural. It needs looking after so that it doesn't split or become weak and tangled, just like your own hair.
We offer a comprehensive aftercare support service along with advice on how to keep your hair extensions beautiful and full, just as they will be when you leave the salon. As well as quality shampoo and conditioner products, you'll also be shown how to gently brush through your locks, as well as advice on heat styling and blow-drying.
Book your free consultation
Our professional hair extension service is available in our salon for customers in Aldershot, Farnham, Guildford, Farnborough, and Fleet, and throughout Hampshire, Surrey, Berkshire and London.
For thicker fuller hair or to add colour and vibrancy to your own hair, book a free consultation now with one of our expert hair extensions team by calling 01252 331302. Alternatively, you can book online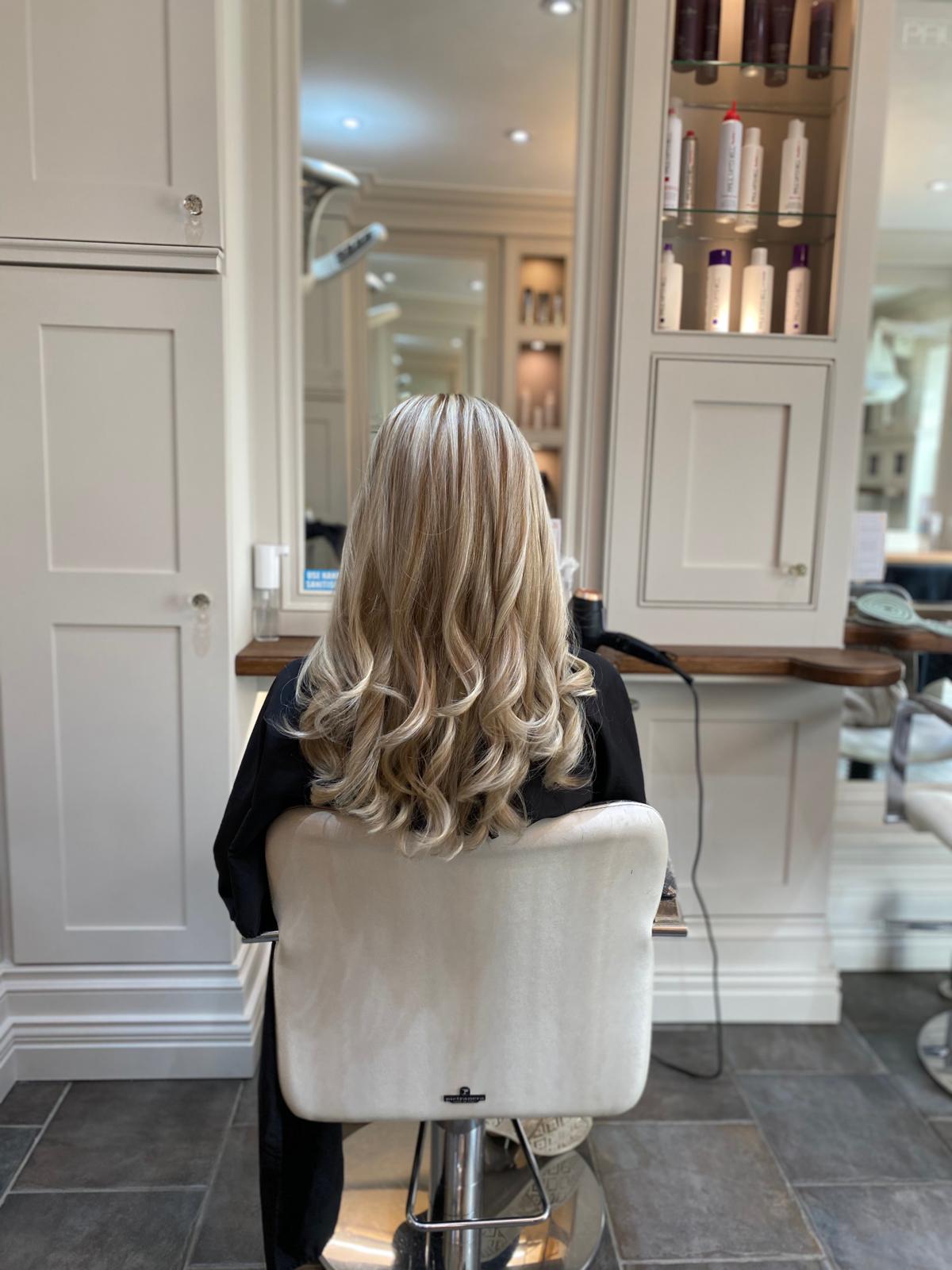 Hair Extensions Consultation
You've chosen too have hair extension for several reasons, including adding volume and weight to your natural hair. Individual wafted extensions and clip-in extensions give you an instant thicker head of hair, with more volume for all kinds of styles. Your confidence will soar!
But you must choose the right hair extension type and fitting method too. This is why we start with a consultation.
Our hair extensions consultation service is free 
Carried out by one of our trained hair extension specialists, a free consultation is the first step in your journey to fabulous looking and long-lasting hair extensions.
During this consultation, our trained technician will evaluate;
Your style of hair

Colour

And length
You want your hair extensions to be as natural as possible. This means not only choosing the right type of hair but also getting the hair colour right as well as the right fitting technique.
During the consultation, our technician will also talk you through the important aftercare you'll need to do to keep your hair extensions looking shiny, luscious and in great condition. They can also answer any questions you may have too.
Our guarantee
At Image Group London, we pride ourselves on delivering the very best hair extension products and service to all our clients, every time. Our clients tend to stay with us as a result.
As well as great products and service, our clients love the 3-month guarantee we offer on the quality products that we use. We want you to be 100% satisfied with everything that we do and to get the best from your hair extensions.
You'll have regular appointments with a technician once your hair extensions are fitted. As your natural hair grows, your extensions will move too and so it's important to move them from time to time. This maintains the natural look but also cares for your natural hair too.
If you are unsure about anything or are worried there is a problem with your hair extensions, make an appointment with one of our technicians. With their expertise, they will be able to quickly identify what the problem is and find a solution.
For the best hair extensions and service, book a free consultation today. Call 01252 331302 or book online
"
Absolutely first class for hair extensions. I've been coming here regularly for 3 years now I used to get my hair done at a high-end studio in London but Image & Co are much better. The staff are very friendly. I'm very fussy about my hair and I'm always being complimented on how nice my hair looks. Highly recommended. "
Dutchess