Service Name
Hair Colour Correction
Hair colour correction
Hairdresser colour correction is the process of rectifying a colour job gone wrong. Whether that's a colour that you've applied yourself at home, or you've paid for in another salon. If the hair colour you have isn't the colour you want, let Image & Co fix your colour for you with our hair colour correction service.
There are lots of different types of colour correction hair services, but the most common ones include lightening up really dark hair and making really light hair darker. Perhaps your white blonde hair now has a brassy hue, or your deep mahogany chestnut is more red than brown.
All of these will require an expert to rectify. Book your colour consultation today.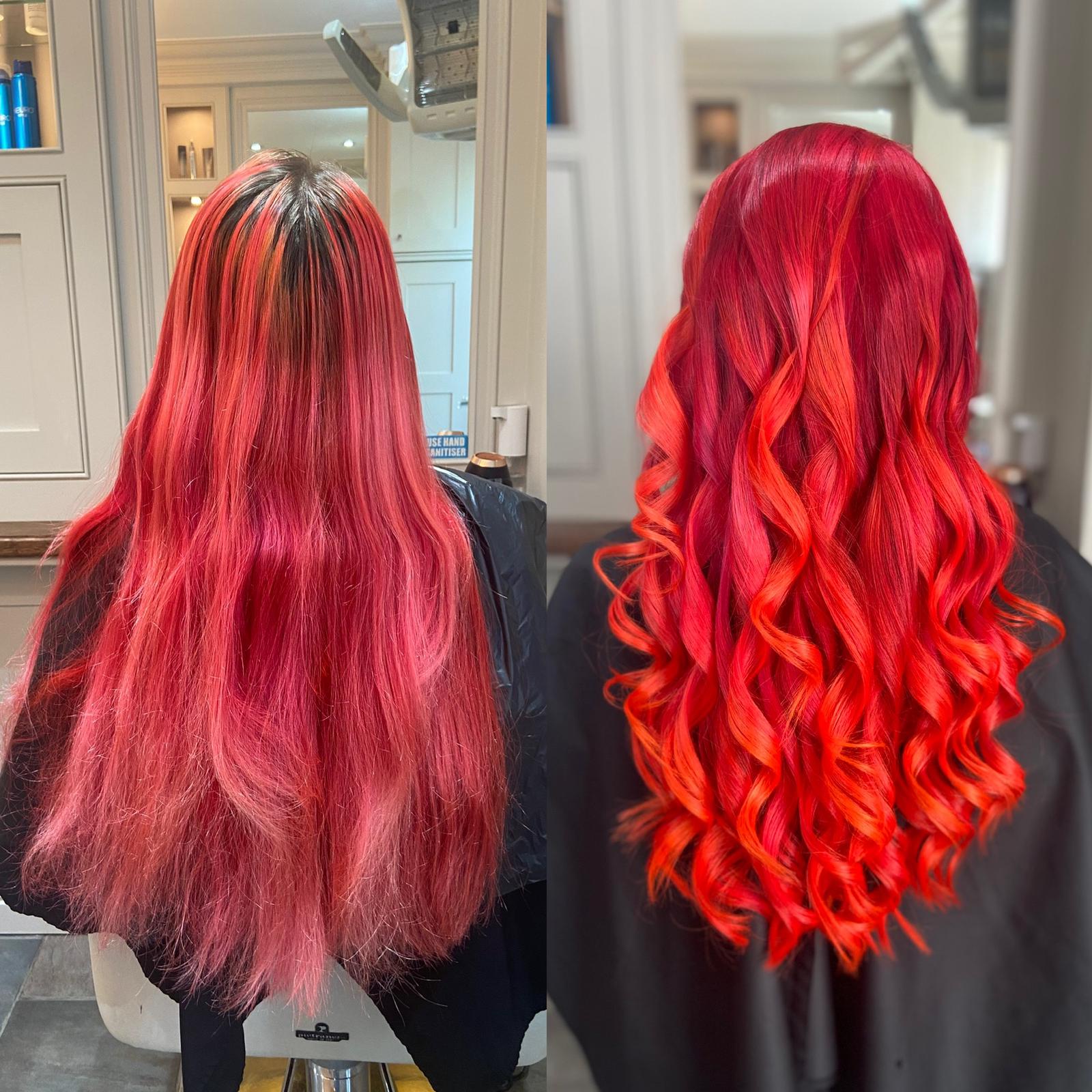 Is Colour Correction bad for hair?
The issue with colour correction for hair is that it isn't a simple fix. If your hair is too dark and you want it light, it isn't a simple case of applying bleach and lightening it up. If you've darkened your hair using an at-home hair dye, your hair will be prone to colour lift unevenly or worse come out in red or orange hues.
In order to combat this, the colourist has to apply colour on top of the colour you've already applied, to stop the bad colour from turning an even more unwanted shade of colour – if that makes sense.
If you're really light and you want to go dark, again, it's not just a case of applying the dark dye and off you go. Your stylist will need to apply a 'filler' colour to the bleach to put a pigment back into the hair for a future colour to cling onto. If you've ever bleached your hair and then dyed it dark, you'll probably have experienced the colour washing straight out, that's because the colour had nothing to hold onto.
So, is colour correcting hair bad for it? Well, it isn't great, and it may require several trips to the salon to right the wrong, but when you have a professional correct your bad colour, they won't just give you the colour you want, they'll also work to undo any damage you've caused.
How much does it cost for hair colour correction?
At Image & Co, colour correction for short hair starts at £150, for medium hair colour correction this is from £170, and for long hair colour correction, prices start from £190.
This can be a lot more than you were hoping for, considering you were probably trying to save a few pounds doing a home hair dye job. But to achieve a great hair colour, you need to entrust your colouring to the professionals.
Unlike standard hair colour treatments, the process to rectify colour when it goes wrong is time-consuming and requires a much more aggressive approach.
The colourist will likely need to drastically alter the colour of your hair in order to combat the damage done, and in doing so, will need to use more products than they normally would. Plus, colour correction is something that only skilled stylists should carry out. Because in order to remedy a bad colour job, you have to know the ins and outs of hair colour. Also, you can expect to be in the chair for a lot longer than you normally would, because there are multiple steps involved to right the wrong caused by your at-home hair dye.
Why is colour correction so expensive?
Why is correcting hair colour so expensive? Because not only are you requiring the salon to chemically alter your colour again (to correct the colour you put on previously), your colourist has to do this without damaging your hair further.
And this isn't an easy task.
When you dye your hair at home, the over the counter dye kits are cheap for a reason. They're full of cheap, low-quality chemicals that damage your hair.
Putting right what has gone wrong is a time consuming, laborious process that requires an expert colourist to do it well.
And one of those doesn't come cheap. Plus, you'll be in the hot seat for longer than you normally would, meaning your stylist can't see any other clients.
What can you do if your hair colour goes wrong?
If you colour your hair yourself at home with an over the counter hair dye and it isn't what you hoped for, the best thing you can do is make a call to Image Group and request our hair colour correction service.
When you come in for your colour correction appointment, bring the box of hair dye you used with you or at least the product information sheet, so we can see what we are dealing with.
Knowing what you've put on your hair can help us not just correct the colour issue with your hair, but also prevent us from doing any further damage, and even help us reverse the damage that your home colour may have caused.
To begin colour correction, your colourist will start by removing any remaining at-home hair dye residue. They'll apply a chemical extractor to strip the colour from your hair and remove as much of the bad dye as possible. At this stage, they'll carry out a colour test to determine which hair colour treatment will be the best for your hair going forward.
Once you've decided which hair colour you want your stylist to apply to your hair, they'll begin the process of applying the new treatment, slowly.
Most hairstylists will recommend you go for gradual hair colour, something like ombre or balayage, because it requires less hair colour to be applied to your hair, resulting in less damage to your already damaged hair. Plus, if the colourist hasn't been able to completely cover up all of your at-home hair dye, balayage will make the colour grow out much softer and more natural-looking.
Your colourist is also likely to recommend you come back for a follow-up appointment in the near future to apply a deep treatment to your hair to give it some much-needed love.
Image & Co hair colour correction
Now that you understand the Image Group's process for colour correction, hopefully, it makes sense and you understand why a correction is an expensive undertaking. If you have any further questions, give us a call, or drop us a message.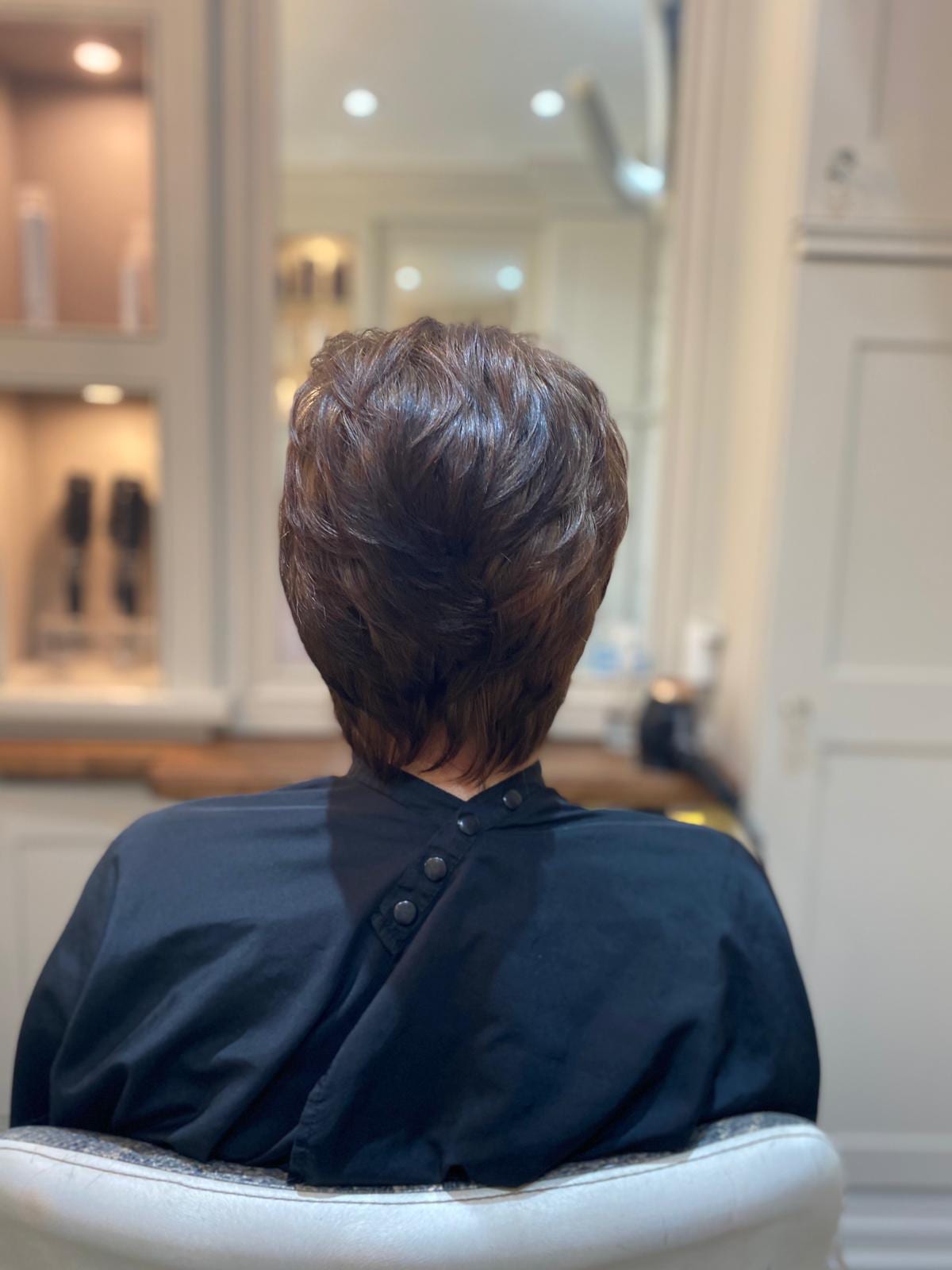 Skin Test
The skin test involves placing a small amount of product behind the ear. Ideally, the colour should be left in place for 24-48 hours. If during this time or after you experience any irritation and redness please remove the dot immediately. If the irritation persists please seek medical advice and, please also, inform us. Skin tests can only be conducted 48 hours prior to having the colour service you have chosen.
Please note that for Health and Safety reasons a skin test is required prior to all permanent colouring and semi-permanent colouring. This is to protect you from the consequences of an allergic reaction.
"
I first came to the salon 9 months ago after experiencing terrible hair breakage and thinning - Lynne was amazing and came to the rescue she did an amazing job of correcting the awful colour and adding extensions. I was absolutely delighted with the results and continue to be! I cannot rate this salon highly enough I only wish I had found it sooner! "
Michelle Oliver