Service Name
Balayage & Ombré
Balayage & Ombre
Discover balayage hair at Image & Co. This incredibly popular hair colour technique is sweeping social media, and given that balayage means 'sweeping' in French, this low maintenance hair trend is the look you want this season.
Whether you're looking for a new hairstyle, are after balayage for blondes, or are wanting a sun-kissed, more natural-looking hair colour, balayage highlights are the hand-painted hair colour that creates natural-looking hair.
Short hair, long hair, it doesn't matter. Balayage hair looks fantastic on every hair length and if you want to look like Chrissy Teigen, then blonde balayage is the hair colour you need.
While balayage hair has been around for a while, this timeless, hair colouring technique is growing in popularity. But what is balayage? How does it differ to Ombre and how does balayage affect the health of your hair?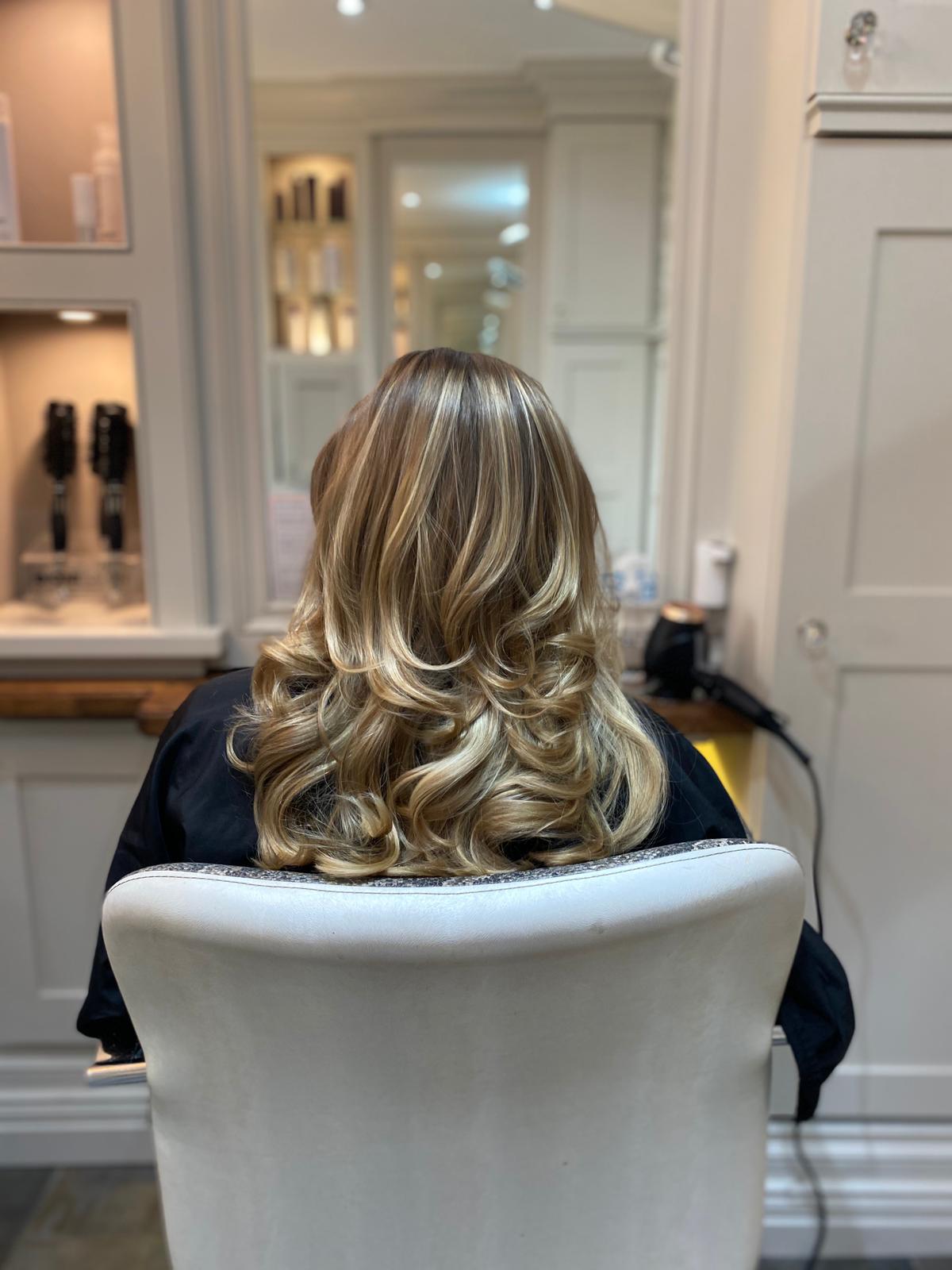 Is Ombre and Balayage the same thing?
Ombre and balayage aren't the same thing. It can be hard for the untrained eye to tell them apart, but they are different.
Balayage is all about how the colour is applied to your hair. Because the word balayage means to sweep, that is how the hair dye is painted onto your hair, allowing for a much smoother transition between your dark hair or your base colour, and your balayage hair highlights.
Ombre on the other hand is a hair colouring technique where all the ends of your hair are coloured, and the transition from your roots to the end of your hair is more pronounced. The word ombre literally means 'colour that is shaded'.
Ombre itself isn't as severe as another technique called 'dip-dye' which leaves a very obvious dye line on your hair – it essentially looks like the colour that has grown out, whereas ombre and balayage are very much graduated hair colour.
When you're in our Image & Co salon, it's important that you explain which look you're going for. If you aren't sure, your hairdresser will be able to show you a picture of the two separate looks, ombre or balayage, so you can decide between them.
If you still don't know which sun-kissed colour will work best for your hair, we offer free colour consultations for you to decide which look you want to achieve.
Remember, if you haven't had your hair coloured with us before, you'll need a skin test prior to your appointment with us, to make sure you aren't sensitive to the hair dye we use.
Is Balayage bad for your hair?
Balayage is not bad for your hair, as long as you have a professional, such as a colourist from Image & Co, carry out the balayage for you.
Using an ammonia-free permanent hair colour is the healthiest option for colouring your hair.
The great thing about balayage hair is that it isn't damaging to your hair because you don't need to colour your hair as often as you do with other hair colour techniques. The less you colour your hair, the healthier it will be.
What is Balayage?
Balayage is a technique for hair colour that gives your hair a graduated colour – blonde balayage is beautiful. If you have dark hair, balayage highlights your hair in a natural way. It also makes regrowth much less noticeable.
Balayage hair highlights are painted on to your hair with a brush, completely freehand, you don't have a cap or foils, the colourist puts the colour where they think it will work best. The aim of balayage hair is to give your hair a very natural-looking, sun-kissed look, very different from the uniform effect that can happen with foil highlights.
The main benefit of balayage over traditional highlights is that your colourist can work more colour in where they think it's needed, as they're colouring your hair.
Balayage is very on-trend for 2020 – 2021, so if you aren't sure you want to give yourself a whole new look, balayage hair is the hair colour of choice for you. It is a subtle highlight technique that will lighten your features and works with any hair colour.
It doesn't matter if you have brown hair, blonde hair or are redhead, balayage works with all hair colour. Plus, the highlights from balayage are so low maintenance that you won't be needing to run to the salon every few months to get them topped up, because you're not dying the whole length of your hair. And even better, as your balayage grows out, it'll keep on looking perfect, because that is the look you're going for.
How much does Balayage hair cost?
Because balayage creates stunning hair colour without the laborious upkeep that other hair colouring requires, it doesn't need you to pop into the salon every few weeks. Meaning this can be an incredibly cost-effective way to colour your hair infrequently.
However, because it's so time-consuming to do, blonde balayage can be one of the more costly hair colouring techniques.
Balayage for medium hair at Image & Co starts at £130; balayage for long hair starts at £170.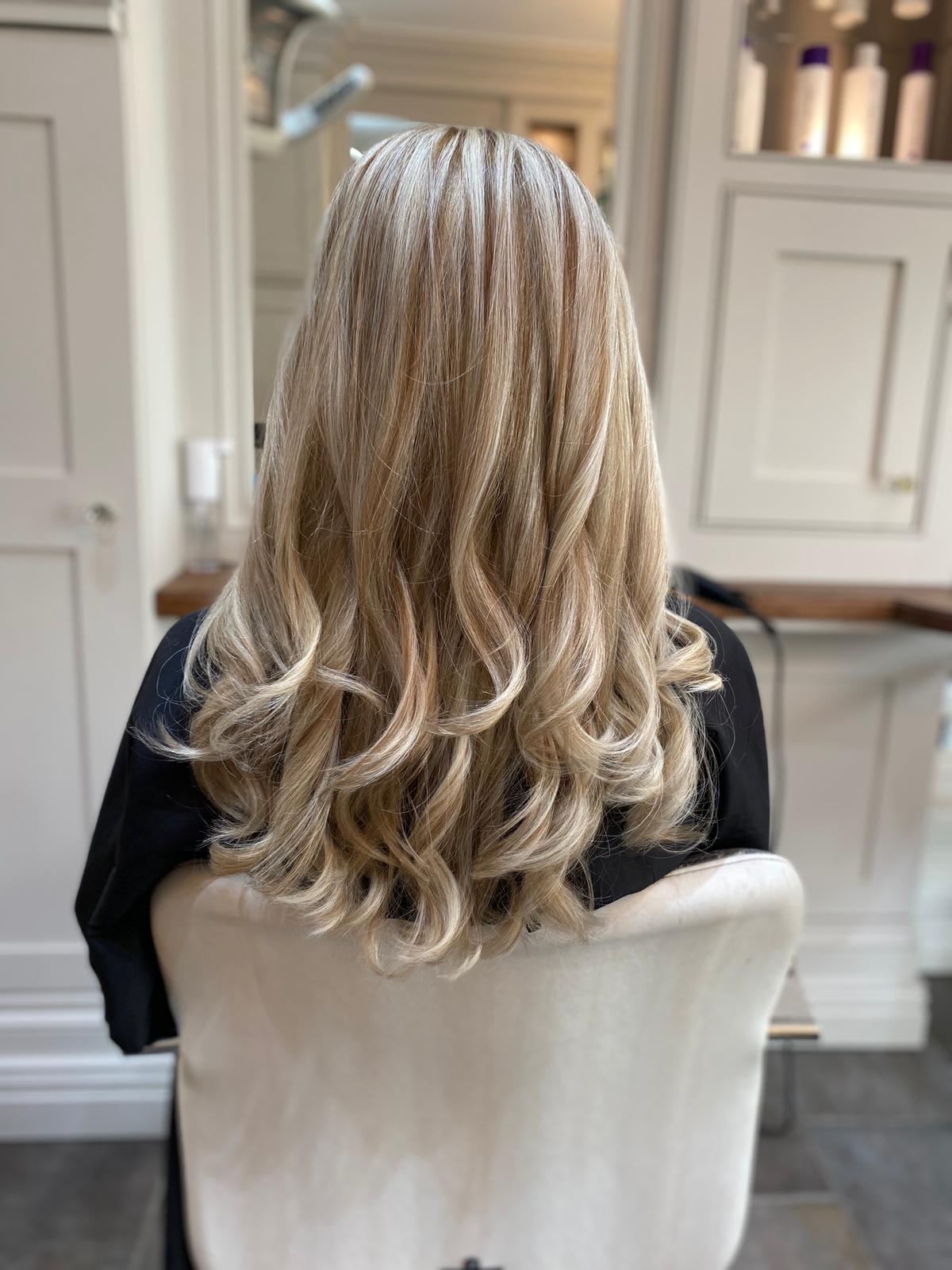 What do you need to know before getting balayage?
Balayage hair may be a low maintenance way to colour your hair, but that doesn't mean there aren't facts you want to consider before you do it.
Balayage still requires you to lighten your hair, and that means you'll need bleach to lift the colour. Which means it's essential you have a skin test before we colour your hair.
Other points to consider are:
Balayage on brown hair: The darker your base colour and the lighter you want your hair to be, the more work and colour will be required to create you the desired effect. With that in mind, you might want several sessions to lighten your hair, gradually getting lighter until you have the look you're after. For example, if you have very dark brown hair, you might want to start with a darker shade of blonde to make your lightened hair look more natural, rather starting out with ash.
Balayage to blonde hair: If you're starting with blonde hair already, balayage to blonde hair is an easy win, because your hair is already naturally light and it won't take as many sessions to achieve your desired look.
Balayage looks good on short hair: Don't be fooled into thinking balayage just looks good on long hair, this is an urban myth. Anyone can rock balayage hair. Short hair, long hair or medium hair, balayage highlights add serious colour to your locks.
Balayage can be any colour: While balayage highlights are traditionally blonde, they don't have to be. Balayage can be any colour you want. So if you want to experiment with your hair colour, you can. One popular type of balayage at the moment is the reverse balayage, where your hair gets darker at the ends, instead of lighter.
Balayage requires maintenance: Yes, balayage is low maintenance, but that's low, not no. Balayage highlights allow your colour to grow out naturally without a regrowth line, negating the need for frequent salon visits. However, as with any hair colour, there are certain things you need to do to maintain your colour. One is to use a special colour shampoo (ask your colourist for recommended products), the other is to use a hair mask instead of conditioner once a week.
Skin Test
The skin test involves placing a small amount of product behind the ear. Ideally, the colour should be left in place for 24-48 hours. If during this time or after you experience any irritation and redness please remove the dot immediately. If the irritation persists please seek medical advice and, please also, inform us. Skin tests can only be conducted 48 hours prior to having the colour service you have chosen.
Please note that for Health and Safety reasons a skin test is required prior to all permanent colouring and semi-permanent colouring. This is to protect you from the consequences of an allergic reaction.
"
I'm over the moon. After previously going to a salon in Hook for a balayage they made it so uneven and green. I couldn't even wear it down. Alex at image had completely fixed and transformed my hair in so thankful. Your so talented Alex and the whole experience was amazing thank you "
Lia Cole