Service Name
Perm & Demi Wave
Perm & Demi Wave
Image & Co are proud to offer a Perm & Demi Wave service. This is professional perming to create a manageable, curly style, suitable for any occasion.
We offer professional hair perming and volumising in our salon for clients in Aldershot, Farnham, Guildford, Hampshire and Surrey.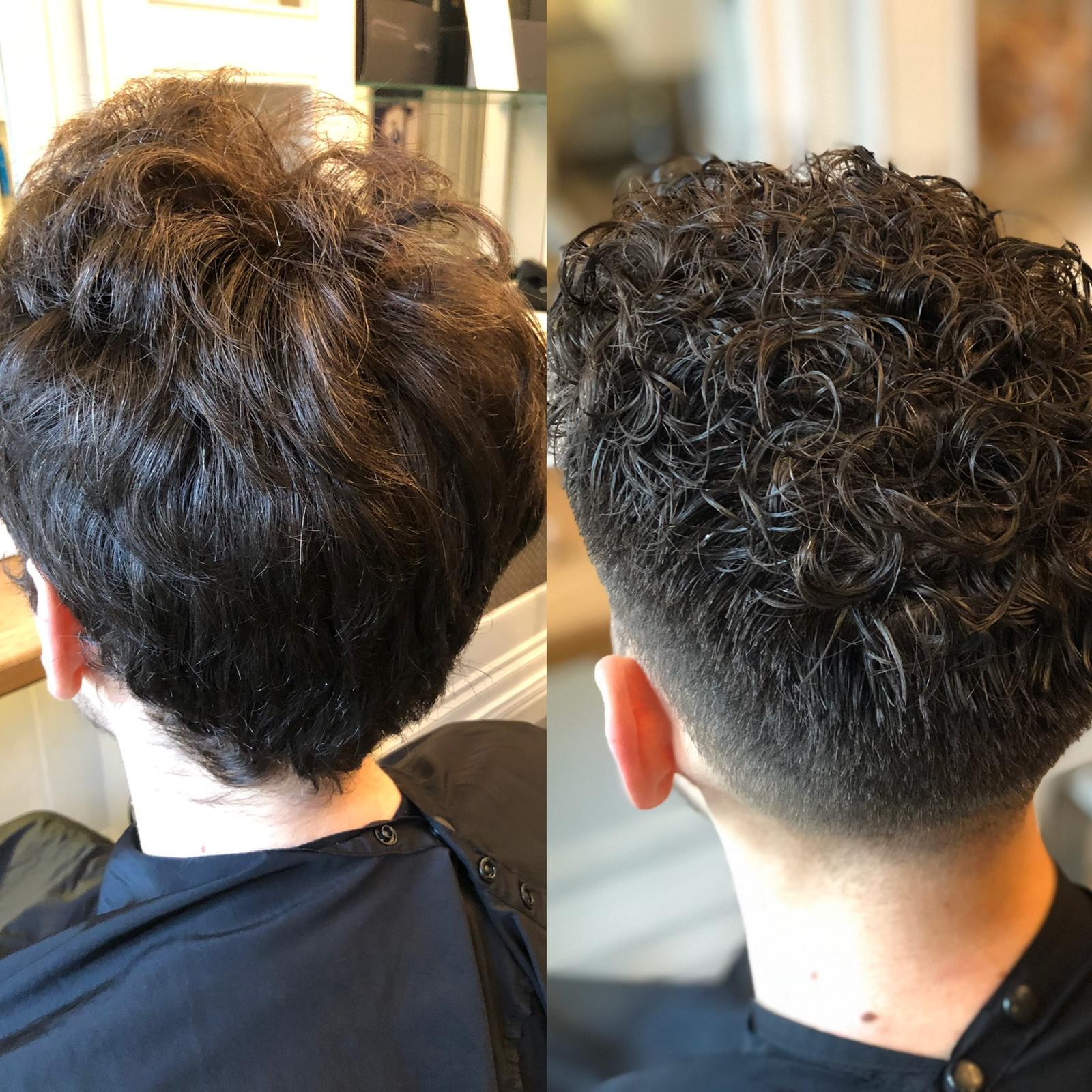 What is a demi wave perm?
If you've ever seen Grease or Flashdance, then you'll have seen a perm. Not sure what we're talking about? Did your mum or gran have overly curly hair when you were growing up?
That's a perm.
Fear not, a demi wave perm is not a full perm. A demi wave perm is the 21st century's answer to those of us wanting curly hair without looking like your granny.
A demi wave perm is also known as a body wave and it basically allows anyone wanting more natural texture to their hair to achieve this look without having to wield a curling wand every day.
A demi wave hairstyle is still a chemical treatment, but the chemical solutions are a lot less harsh and damaging to hair than they used to be, and they allow stylists to modify the results to make your hair more modern and less 1950s.
It's that much longed for medium ground between straight hair and beach hair, just without having to curl, braid, scrunch your hair every time you want curls, or apply damaging heat day after day to achieve the same effect.
Men or women can benefit from a demi wave perm, this isn't a look reserved for just one gender. So if you're after a demi-wave men perm, a distinctive hairstyle that will leave a lasting impression, this is the hair treatment for you.
Just think of Kit Harrington and his man perm in Game of Thrones to realise that any guy can work a man perm. Gone are the days where the perm or demi wave was the preserve of women only.
And no, you don't have to have long hair to benefit from permed hair or loose waves. Short hair can be made wavy hair too.
What's the difference between a perm and a body wave?
Not sure which hairstyle to go for – a perm or a natural-looking body wave? Well, both will result in curly hair, the difference is how curly.
A body wave perm gives the impression of just braided, scrunched hair, all the time (or for as long as it lasts).
A perm gives you permanently curly hair, and depending on the rods you and your stylist decide to use, will depend on the size of the curl in your hair.
A body wave is a perm, but it results in more wavy, naturally curly looking hair. Where a perm gives your hair instant volume, a body wave, or demi wave gives your hair a natural look.
You can choose the size of your waves by the size of the rods used to create the curls. You can have tiny, tight curls or large loose curls, the choice is yours. Your stylist can also customise the end result by using alternately sized rods throughout your hair, so the finished look isn't so formulaic.
How do you style a body wave perm?
To style your body wave perm, Image London only uses products that are kind to your hair, which will give your hair natural volume, wave and will optimise the structure of the hair.
The Wella conditioning agents that we use will help ensure the treatments are especially gentle and will leave your hair noticeably conditioned.
Please note that perms can last up to 3 months depending on your hair length and type.
A perm isn't a hairstyle to be taken lightly. We advise clients to come in and visit us for a one-to-one consultation beforehand, so we can find the best solution for you. This is a chemical treatment, once your hair has been chemically curled, it's incredibly hard to smooth the hair strands flat again without damaging them.
A body wave perm is a semi-permanent service for flexible styling. These are soft waves with lively volume that optimises the structure of the hair for uncomplicated, adaptable styling suitable for any occasion. Conditioning polymers make the treatment especially gentle and leave hair noticeably more supple.
How long does a body wave perm last?
A body wave perm is achieved by chemically altering your straight hair into bouncy, natural-looking curls. If you have fine, limp, straight hair that no matter how long or how often you curl it, the curls fall out straight away, then you're the perfect candidate for a body wave perm.
But how long does a body wave perm last and does it cause any long term damage to your hair?
A body wave perm is a chemical treatment at the end of the day, and any chemical treatment will have an effect on your hair's health.
If your hair is already treated with chemicals i.e if you've had highlights in it or it's been over-processed through years of dying it, you should avoid perming it, until it's back to health, as perming damaged hair can cause it to break.
If your hair is in great condition, then go for it, get the body wave perm you've always dreamed of, and yes, you may spend the afternoon in the stylist's chair, but you'll be getting the look you've always wanted.
Just be committed to your new look because a body wave perm can last between three and six months depending on how you take care of your hair.