Men's Hair Salon
Styling men's hair
If you're ready for a new men's hairstyle, then look no further than Image & Co in Aldershot. We offer the best haircuts for men, guaranteed to give you a hairstyle like no other.
We have the freshest hairstyles for men to create the ultimate short hair look. We can cut popular medium length hairstyle trends and we can fashion your long hair into the coolest styles.
We offer the latest hair trends for men, from a side part to low fade haircuts to modern undercuts.
Hairstyles for men
If you've been researching good hairstyles for guys, and are having trouble trying to determine which are the best hairstyles for you. Wonder no more.
We understand how tough it can be to find the right men's hairstyle and how important it is for you to choose the perfect one for you. Then you have to find the right salon that understands what look you're trying to achieve. Plus, you might have to find a look that works well for both the office and your social life. It's a tricky balance to strike.
Whether you choose a short haircut, a medium hairstyle or prefer longer hair, a good hairstyle will be the one that works for you.
Short haircuts are always popular because they're incredibly low maintenance, easy to manage and result in a clean-cut look. But if you prefer longer men's hair, these are some good men's hairstyles that incorporate classic and modern styles, taking into consideration face shape and type of hair.
Book your Men's haircut today.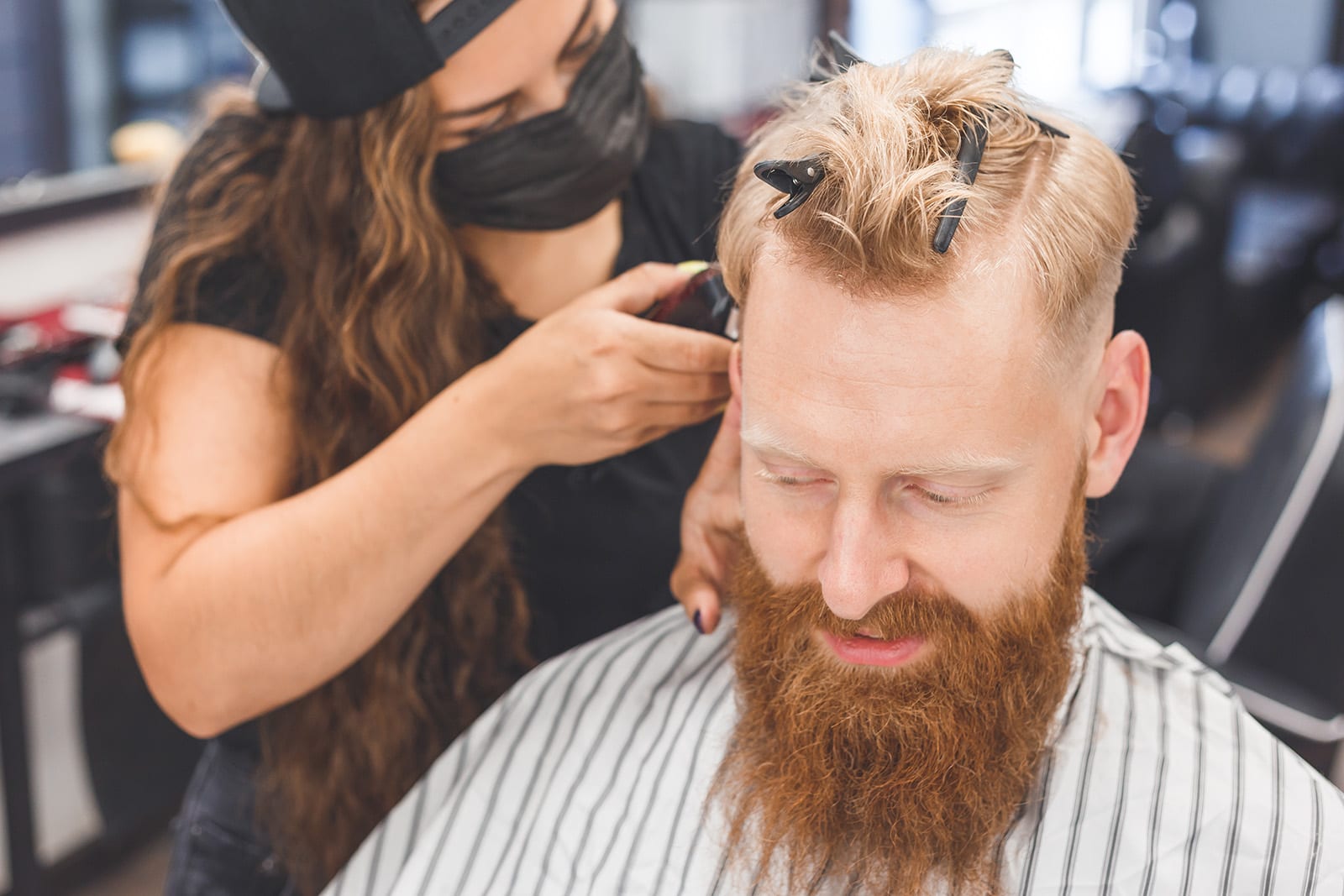 Face shape
Round face. Choose a men's hairstyle with sharp angles to add volume. Or keep the top longer to add length. Avoid a side part as this will make your face longer. Avoid a fringe as anything that truncates your face will make it look rounder.
Oblong face. Oblong faces suit most haircuts, except short on the sides, as these will make your face even longer. Go for length on top and fade on the sides, nothing too drastic. Longer hair will only serve to make your face rounder.
Oval face. If you're blessed with an oval face you can wear pretty much any hairstyle you want. Just avoid a long fringe as this will elongate your face, whereas sharper angles will make it more masculine.
Square face. A square face suits most haircuts, especially sharp angular ones because they enhance your masculinity even more. Undercuts and fades work well with chiselled jaws.
Hair type
As well as figuring out what hairstyles for men will suit your face shape, you have to take into consideration your hair type too.
While modern hair styling tools such as hair dryers, hair straighteners and styling products can help you recreate any look you want, your hair type will determine which hairstyles you can really pull off and which you can't. Choose a men's hairstyle that works with your hair type and you won't have to work to maintain it.
Wavy hair. Thick waves work with almost any hairstyle, just avoid a classic slick back as it can be hard to keep the hair in place.
Curly hair. This works well with a modern taper fade or the angular edges of an undercut.
Straight hair. Slicked back and let your hair follow its natural course.
Men's popular hairstyles
The latest trends in men's hairstyles are skin fade haircuts, undercuts, pompadours, quiff haircuts and crops. However, the overarching, most notable trending hairstyle for men right now is a messy cut with textured, longer hair on top and close-cut sides.
With more options open to men than ever before, staying fresh and on-trend can be a full-time job.
Image & Co is dedicated to keeping on top of men's popular hairstyles, we know which features to mix and match. We know what hair length will suit you. We know whether a side part would work with your hair and face shape. We can offer you advice on taper fade haircut or tapered style.
The most popular hairstyles we are seeing at the moment include:
Quiff haircut – the quiff haircut has been around for a long time and is being given a revival with a high fade on the side and back, and messy texture with flow on top.
Messy undercut hairstyle– an undercut with a difference. The messy undercut features a longer length on top. This textured cut combined with the short shaved sides give your undercut a modern edge. This men's hairstyle works particularly well with thicker hair. Add in a fringe and embrace your wilder side.
Slicked back – this classic look is given a modern take. Give your hair a natural flow and volume with back combing, blow drying and a generous helping of matte pomade to keep it in place.
Side parting – a side part is a great men's hairstyle to give a more polished appearance. Blow dry to work in extra volume, style with pomade and comb through.
Natural flow – one of the most popular haircuts in recent years, the natural flow includes shaved sides or high fade, with longer hair on top. Messy and textured or thick with volume, how you choose to work your natural flow is down to you. But you will need to use a hair dryer to get longer hair to stand up. This haircut works well with thick hair.
What you need to know about men's hair
Whether you prefer a fade haircut – where the hair stylist uses clippers to create a faded cut, shaving the sides of your hair in a fading out style – or a scissor cut – where the hair stylist wields scissors to create your preferred look, every men's hairstyle is achievable in salon.
Current hairstyles for men are leaning towards medium and longer hairstyles that encourage movement and see your locks flow. These are natural looking men's hair cuts that require minimal styling for maximum effect.
How can you achieve this at home? Well, the simple answer is that great hair goals aren't just for the ladies. With a blow dryer and a daily routine, you can recreate your salon styled hair in your own bathroom.
Yes, there are certain things that are out of your control: hair thinning, baldness, receding hairline, but there are things which are firmly in your control, such as staying on top of your hair's health. If you need hair care tips to ensure your tresses stay in tip top condition, here's how men get good hair:
1. Use natural shampoo.
Your hair has no reparative qualities of its own, so if you want to know how to look after it, start at the root. If you want your hair to remain in perfect condition, you have to take care of it, and that includes opting to use a shampoo that is gentle to both your hair and scalp.
Try to avoid shampoos with a list of ingredients as long as the bottle and contain lots of harsh chemicals. Look for shampoos that contain strengthening ingredients like wheat proteins and amino acids, and nourishing ingredients that encourage thickness, like Vitamin E.
2. Don't wash your hair everyday.
If you don't want to dry your hair out or damage it further, don't wash it every time you hop in the shower. Constantly washing your hair will strip it of the natural oils and will dry it out. The less often you wash it, ironically, the less you'll have to wash it.
3. Use a conditioner.
Don't assume that conditioners are a female-only hair product, conditioners are just as important for men too. Shampoo will clean your hair, but it won't nourish your hair and scalp like a conditioner will. Conditioners do what they say – they condition your mane, moisturising your hair and imbuing it with added strength. And when your hair is healthy and strong, it will shine.
4. Keep on top of cuts.
If you want your men's hairstyle to last, you need to keep on top of regular maintenance. That means popping to the hairdressers every 6-8 weeks to get a trim, every 2-3 weeks if you have a shorter hair style.
5. Treat your hair gently.
If you want to be rewarded with shiny strong hair, treat yours with the love and attention it deserves. That means drying it gently. Don't rough house your head like you would the dog. Don't towel dry your hair aggressively, all you'll do is damage your hair.
Instead, rub it lightly after washing, squeezing the water out of it. And don't yank a comb through your hair either. Brush it with a soft bristle brush as this is both better for your hair and your scalp. The more you tug your hair, the more likely it is to thin.
6. Use natural hair styling products.
Like choosing a natural shampoo and conditioner, look for natural hair styling products too. Lots of hair products contain harsh chemicals that may make your hair look good now, but they're actually damaging your hair with every application.
Opt for a pomade rather than a gel or mousse that will give you a crunchy texture. Pomades are available in both matte and high shine finish, with a firm or flexible hold.
7. Exfoliate your scalp.
Think of your hair like a plant. You can't do anything with the leaves once they've sprouted, but you can ensure the roots are well fed and watered in order for the plant to remain healthy. The same applies to your hair.
Once your hair grows, there's very little you can do to change it. But by taking care of the roots and your scalp, you'll ensure the hair that grows is the healthiest it can be. Minimise blocked pores and remove dead skin cells and dirt from your scalp by exfoliating it weekly with a gently exfoliating scrub.
8. Treat yourself to a massage.
Scalp massages are incredibly beneficial not just to our overall well being, but our hair's well being too. Massaging your scalp will encourage hair growth, it will increase the blood flow in your scalp to your roots, and it will work to relax the muscles in your head.
Place your fingers in your hair, and without pulling on the hair itself, massage your scalp in a circular motion with reasonably firm pressure for a few minutes.
"
I went in for a maintenance trim and brow wax. Had a lovely time with excellent results. It's nice to finally find a hairdresser who listens to my needs and she even made some really helpful suggestions for next time. Definitely going back. "
Chris Gargett