Service Name
Hair Colouring
Hair Colouring Surrey
Find your perfect hair colour with Image & Co, whether you are looking to re-dye your hair or choose a new hair colour, we provide a full hair colouring service using high-quality colouring from Goldwell. From fiery reds to ultra-light blondes, auburn browns to soft purples, whatever colour you choose, Goldwell hair colouring products will achieve a brilliant result.
We offer permanent hair colour, quasi, semi-permanent or hypoallergenic hair colouring depending on how long you want the colour to last.
Our hair colouring options are extensive with full hair colouring, highlights and lowlights, hair tints, balayage, bleaching & more. We work with Olaplex for permanent colours as it conditions the hair on a molecular level to repair damaged and broken bonds and ensures your colour lasts longer. Let our professional hairstylists create a style & hair colour perfect for you. We expect & deliver perfection with all hair colouring applications – so that you are nothing short of ecstatic with the end result.
Whether you want a full head of highlights or a half head, or perhaps something unique, stylish & fun to accentuate your hairs base colour – our inhouse hair stylists can help you choose which would complement your current hairstyle best – alternatively, we can also provide hair makeover, haircutting, styling & recolouring so that they're entirely complimentary to enhance your look.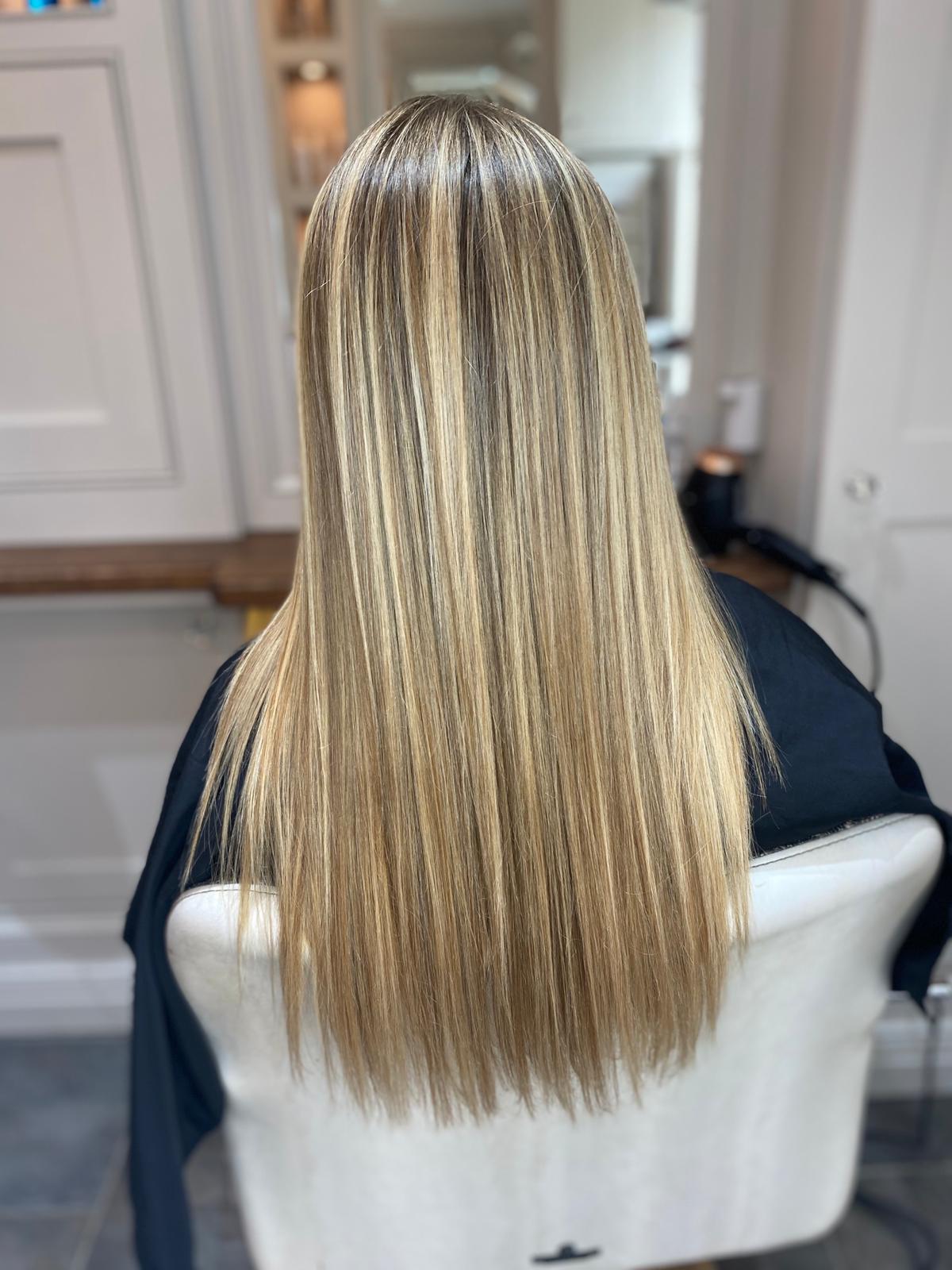 Our salon stylists can provide samples, guidance and if necessary do hair colour tests to see what a colour will look like in your hair.
With our range of permanent & semi-permanent hair colours, we can provide full coverage to ensure no roots are left uncoloured and cover greys or any other hair imperfections you may have. Discover beautiful colours & shades, combined in a way to achieve the perfect desired look.
Our Surrey hair colouring services also include Balayage – a natural looking highlight for the hair, using both delicate hand painting techniques with a brush or Foilyage where we wrap the hair in foils which amplifies the effect. Balayage creates a hair that looks gently sun-kissed from mid-lengths to ends, unlike traditional highlighting.
These Balayage hair colouring techniques are used to give a blended, more natural look with no obvious regrowth lines – the latest trend for natural effect highlights.
Professional Hair Colouring, Colour Correction & Colour Matching
We offer professional hair colouring, correction and colour matching services if you are looking to re-colour your hair we can colour match to the exact shade, helping to remove any obvious root discolouration, new greys or other hair imperfections. Alternatively, if you are looking to correct a colour that you previously weren't keen on – our hair colour correction service is perfect.
We use the most advanced salon hair colouring techniques to achieve balanced and dynamic hair colour. Always achieving the desired tones & shades to suit you.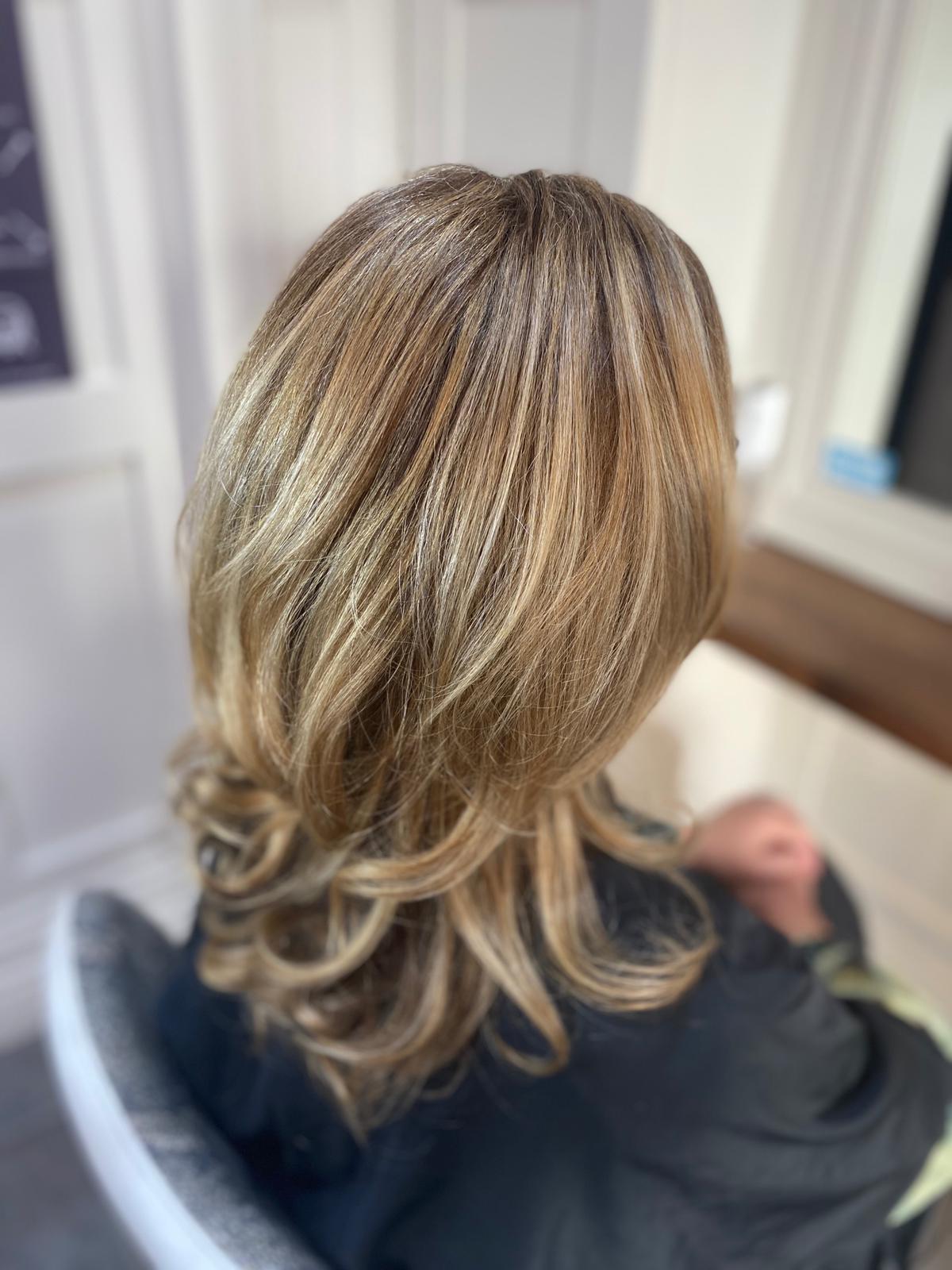 Skin Test
The skin test involves placing a small amount of product behind the ear. Ideally, the colour should be left in place for 24-48 hours. If during this time you experience any irritation or redness please remove the dot immediately. If the irritation persists please seek medical advice and inform us. Skin tests can only be conducted 48 hours prior to having the colour service you have chosen.
Please note that for Health and Safety reasons a skin test is required prior to all permanent and semi-permanent colouring. This is to protect you from the consequences of an allergic reaction. 
"
Alex recently highlighted and cut my hair and I have never been more pleased with the colour or cut. I have had highlights for years but the time and care taken in choosing my colour and getting it so right was outstanding. "
Annette Meredith