Service Name
Beauty Therapy
Beauty Treaments
Treat yourself to a bit of you time and be pampered from head to toe with one of our rejuvenating beauty treatments. Our team of highly-qualified and experienced therapists provide a full range of services, from stone massage to facials, manicures, and more. We use the latest, state-of-the-art techniques and then tailor them individually to your needs.
Relax, revive, and re-charge with muscle-releasing massage, brightening facial therapies, or invigorating foot treatments. We blend highly-effective treatments with a wonderfully relaxing experience – leaving you feeling fresh and relaxed. Book an appointment now for some guilt-free self-indulgence in elegant, vintage surroundings. You'll leave us looking and feeling great.
We're an Aldershot beauty salon specialising in:
Hot stone massage
Bio sculpture
Facials
Hand and foot treatments
Makeup
Waxing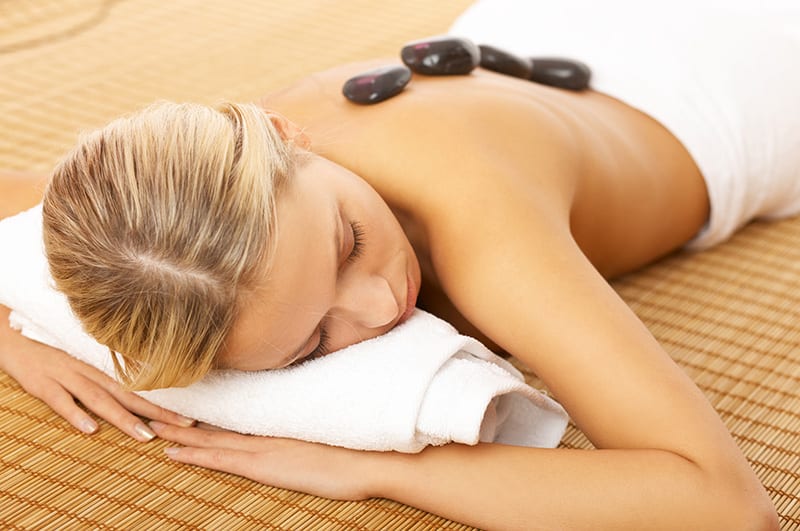 Hot stone massage
Fire-heated stones were first used by Native Americans to treat aching muscles. Our modern revival of this ancient practice uses smooth, heated stones either placed on the body or as an extension of the therapist's own hands. The heat can be both deeply relaxing and help warm up tight muscles so the therapist can work more deeply, more quickly.
Bio sculpture nail
Bio Sculpture Gel was developed to create a natural-looking nail with additional shine, flexibility and protection. It gives you a neat, well-groomed appearance and doesn't chip or wear away at the free edge. Bio Sculpture Gel looks as thin as your own nail but with added strength and a flawless finish. Most manicures last for at least two weeks.
Facials
Try one of our range of facial treatments designed to make your skin feel revitalised and replenished. Our professional team use top quality dermalogica products to create a facial treatment regime that's personal to you.  The right blend of treatment and products can achieve a healthy glowing complexion.
Hand and foot treatments
We'll keep your hands and feet looking young and fresh with highly-effective manicures and pedicures to combat the tell-tale signs of ageing. Our treatments are designed to restore and rejuvenate tired hands and feet. Add the final touch with an application of Bio Sculpture gel.
Makeup
All of our makeup products are by Kryolan, a specialised professional brand used in theatre, film and television. It is highly pigmented and lasts a long time. We will put together a collection just right for you. We'll also give you tips to develop your makeup skills at home.
Waxing
Ask us about our premium waxing products for sensitive skin. Our expert therapists will give you a flawless hair-free finish that removes it from the root. You'll be sleek and smooth for weeks. And when the hair does grow back, it will be softer and more sparse than before.