Service Name
Brazilian Blow-Dry
Brazilian blow-dry
Image & Co hair salon in Aldershot, on the Surrey/Hampshire border, is proud to offer a Brazilian blow-dry treatment.
This perennially popular keratin treatment is the answer to all of your hair problems caused by our Great British weather. If you suffer from frizzy hair every time there is even a hint of humidity in the air, or you just want semi-permanent smooth, easily blow-dried hair, then you should consider getting this keratin treatment applied to your hair. It's guaranteed to tame even the wildest of manes.
The country that has given the world so much already – from carnivals to Caipirinhas, has been giving once more. This time with the answer to frizzy hair. Yes, the Brazilian blow-dry is the answer to all of your hair prayers, rewarding you with a good hair day, every day.
Beloved by celebrities and hailed by hairstylists alike as the frizz-free hair solution, the Brazilian blowdry is the semi-permanent way of guaranteeing sleek, silky locks, day in and day out, no matter the weather.
So if you want to start every day with perfectly smooth, straight hair; if you want to save yourself countless hours every day by not having to straighten your hair; if you want to nourish your hair and give it the love it needs; then a Brazilian blow dry is the semi-permanent answer you've been searching for.
Book your Brazilian blow-dry consultation today.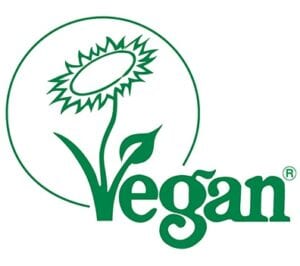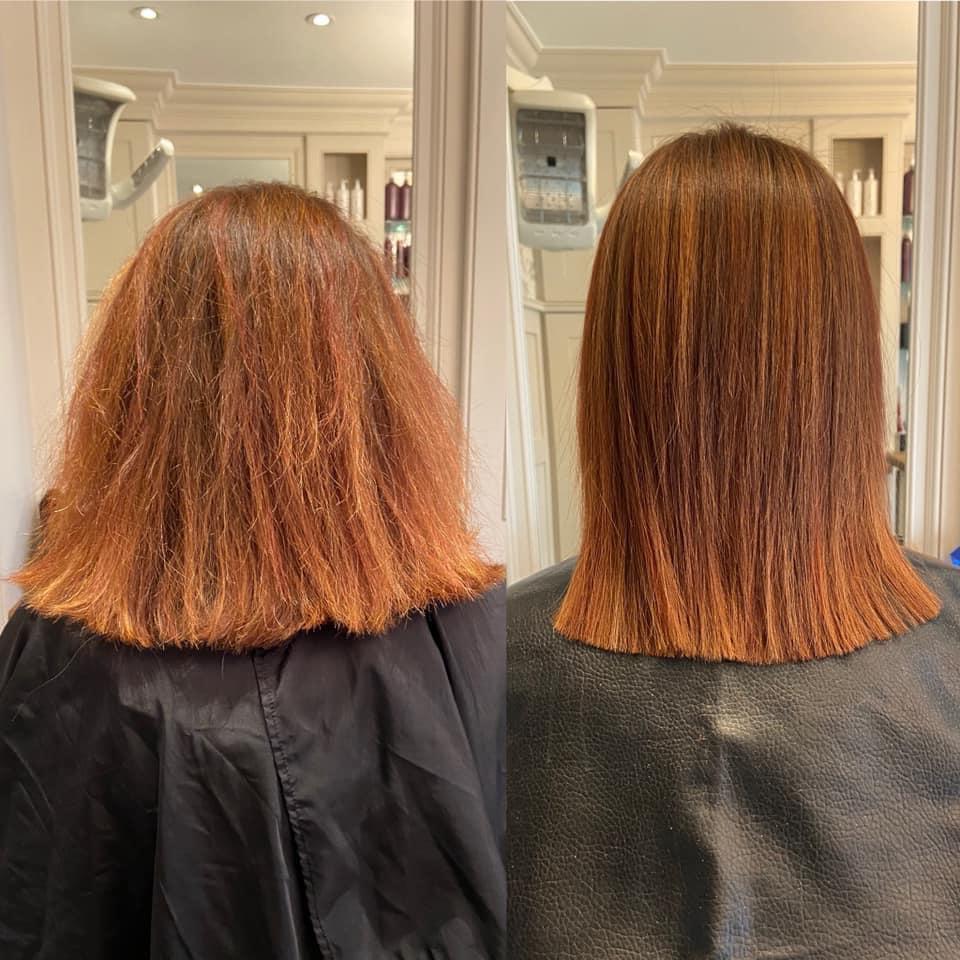 What is a Brazilian blow-dry?
This chemical hair treatment is the perfect way to get you the semi-permanent smooth and nourished hair you've always dreamed of. Our keratin treatment will negate the need for regular blow drys to achieve the same look. And when the Brazillian blowdry results last for up to 4 months, what's stopping you from having beautifully sleek hair all the time?
How does it work?
Your Image & Co stylist will wash and towel dry your hair before adding keratin – the same substance that is found naturally in your nails, in your skin and in your hair. They'll smooth the keratin through the length of your hair, leaving the treatment in place for about half an hour to take hold, depending on your hair type and thickness. Your stylist will then blow dry your hair, sealing the keratin into each hair, leaving you with smooth, sleek, silky strands.
As a final touch, your stylist will run hot keratin straightening irons through your hair to ensure each hair has taken in all of the applied keratin hair treatment.
The Brazilian blow dry hair treatment works through a simple bonding technique – the applied keratin bonds to your hair strands, providing a layer of protective protein to each one, conditioning, nourishing and smoothing each one.
A Brazilian blowdry is the semi-permanent way that helps to protect and nourish your hair, resulting in better hair growth because you won't be needing to treat your hair with heat and chemicals every day to achieve the same result.
And best of all, a Brazilian blow-dry is suitable for any hair type – bleached, coloured, highlighted, permed, demi-wave, kinky, damaged, straight, frizzy, you name it, keratin treatments will work the same – you can put your GHDs in a drawer for a rest, you won't be needing them for a few months.
How long do Brazilian blowouts last for?
A Brazilian blowout will leave your hair kink-free and incredibly soft and slinky, giving you a salon finish to your hair every time you wash it and for usually up to 4 months afterwards. Some clients have reported frizz-free hair for up to 5 months, others for 3.
And no, when you opt for a Brazilian blow-dry, that doesn't mean you're delegating your hair to a life of poker straightness, all the keratin treatments do is lock in proteins leaving your hair cuticles smooth. You can curl your hair or wear it straight, the choice is yours. The only thing you won't have to contend with is frizz.
Aftercare of a Brazilian blow-dry is incredibly simple. You can wash your hair the next day if you wish. Keratin hair smoothing treatments of old used to require you to refrain from washing your hair for up to 72 hours afterwards, but not any more.
You don't need to purchase any special shampoo or conditioner either. This really is a low maintenance solution to frizz-free hair.
Is Brazilian Blowdry dangerous?
A Brazilian blow dry is where your stylist will coat your hair in keratin, temporarily covering each hair strand with a layer of protein, that is locked in place with heat, smoothing the hair and strengthening it, preventing frizz, enhancing your hair's natural shine and reducing the time it takes to blow dry your hair at home.
Is a Brazilian blow dry dangerous in that case? Only if you call having incredibly smooth, beautifully soft, silky hair dangerous. It might result in sudden onset of jealousy in those around you, and it might make you the centre of attention, but is that dangerous?
The treatment itself does contain chemicals other than keratin, and different brands will have different ingredients, and each one will treat your hair slightly differently. If you have asthma or are sensitive to certain products, speak to your stylist beforehand to discuss your options.
If you're concerned about the ingredients of the keratin straightening solution, to put your mind at ease, ask your stylist to go through each one with you and explain what it is and how it works.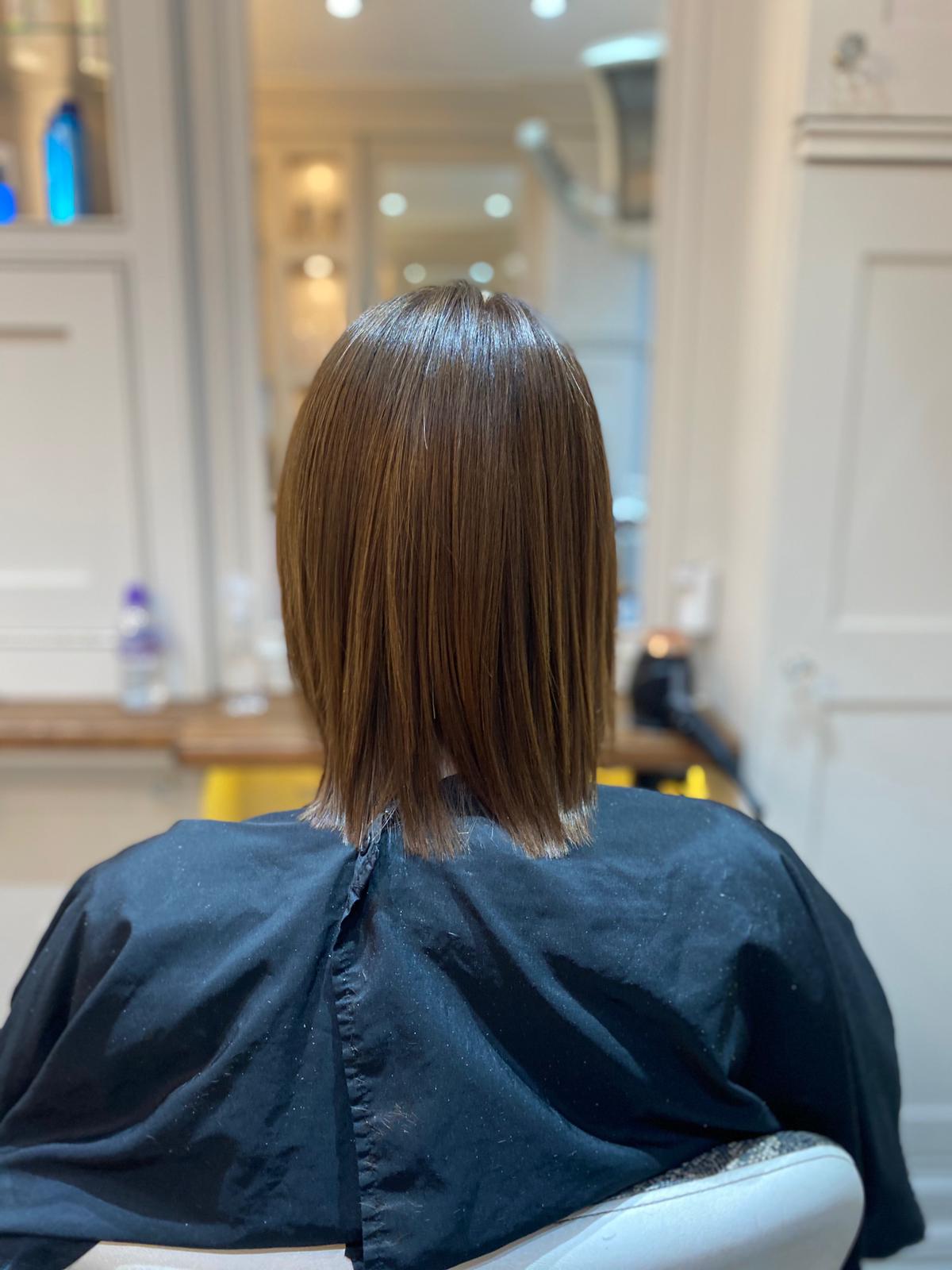 Can I do a Brazilian blow-dry at home?
A Brazilian blow dry is when a keratin treatment is applied to your hair and sealed in place with a blow-dry and hair straighteners, resulting in shiny, frizz-free hair, stronger, nourished hair. This treatment is usually carried out in a salon because of the chemical nature of the treatment. Therefore we recommend it's a treatment best left to the professionals to administer.
It is easier to let a stylist do the treatment for you as they will divide your hair and distribute the keratin evenly. They'll blow dry your hair while brushing it straight to make sure the hair follicles lie flat, leaving your hair as smooth and frizz-free as possible.
They'll then straighten your hair in sections, carefully holding each one in place to reduce the risk of causing a kink or a wave by misapplying a hair clip.
The whole process takes about 90 minutes, so if you have the time and patience and expertise to carry out each step yourself, then sure, you can do a Brazilian blow-dry at home, but why risk damaging your hair unnecessarily? The Brazilian blow-dry is a chemical treatment after all, so if you're looking for a Brazilian blow dry near me, it's probably best leaving it to the experts at Image Group hair salon in Aldershot.
"
Alex does my hair to absolute perfection, she really listens to what you want to do and she always gives professional but friendly advice to what will work best. Most importantly she is truly talented at what she does and I always feel in very safe hands. This salon is my best find for sure and unreservedly recommend to anyone. "
Katie Peacock