Service Name
Women's Hair Replacement
Women's Hair Replacement
Image & Co are proud to offer women's hair replacement in the UK. Our hair replacement system Cabello Medi™ will give you back the natural-looking, healthy hair that you've been craving.
We offer low maintenance, easy styling hair replacement solutions that will give you back your confidence and your life, following hair loss.
Hair loss or 'alopecia' in women is sadly more prevalent than many people would assume in the UK. According to the British Association of Dermatologists, female pattern hair loss (FPHL) typically gets caused by a combination of hormonal and genetic factors. We also support many customers with Trichotillomania.
The onset of thinning and hair loss in women is typically later than for men, but some women experience hair loss early on in their lives. As you can imagine, hair loss can have a severe impact on a woman's self-confidence.
Image & Co will assess your hair loss and determine the best hair replacement options for you using our pioneering hair replacement prosthesis, Cabello Medi™, designed exclusively for our clients by director Lynne Nutbeen and our team of hair loss technicians. We will show you samples of the hair replacements we have and how we can attach them. You will get a chance to feel the hair and see what you might expect from our hair replacement system.
We understand that some women 'suffer in silence' from their hair loss problems. There is no cure for hair loss, but there are amazing solutions available to address FPHL and other forms of alopecia, including total hair loss (Alopecia Totalis).
What is hair replacement?
A hair replacement system is an ideal solution for women experiencing any form of hair loss. The idea behind hair replacement is that it mimics your own hair and boasts a natural look, feel, and flow.
Women who opt for a hair replacement can work, exercise, bathe, and sleep with a hair replacement system as if it were their own hair. Hair replacement systems get safely held in place with a skin-friendly adhesive and are an excellent alternative to wigs.
There are many choices for women's hair replacement systems on the market these days. Here at Image & Co, we offer innovative hair replacement solutions that are durable, stylish, and restore lost self-confidence.
When you have a women's hair replacement system, you can decide on a style that best suits your needs, lifestyle, and personality. There's a vast array of on-trend cuts and colour options, resulting in a truly unique and fantastic look.
At Image & Co, our expert team are here to help you overcome your hair loss concerns and have a hair replacement system that fully meets your needs.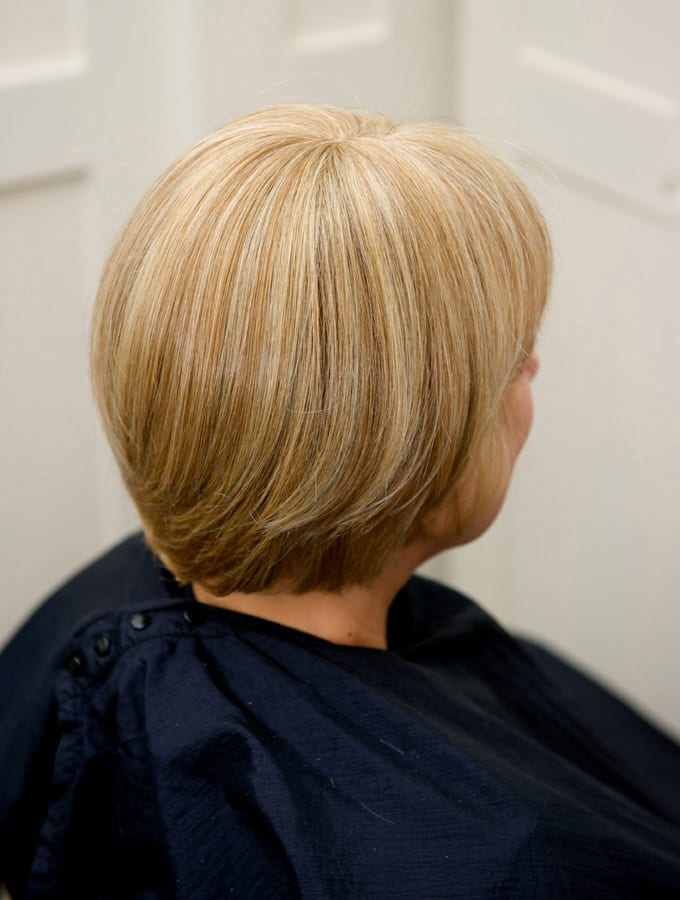 How does women's hair replacement work?
One of the most common questions from our clients is "how does hair replacement work."
The hair replacement process first starts with a confidential, private consultation. Our hair replacement experts take the time to learn more about the hair loss you are experiencing, and your goals and requirements for addressing your hair loss.
After our assessment, we'll discuss the range of hair replacement system options we offer that will best meet your needs, goals, and budget. Our goal is to have you looking and feeling great.
The women's hair replacement options we offer are designed for those with moderate to severe hair loss or thinning. Once you've selected your hair replacement system options, we get to work creating a natural-looking solution that integrates with your existing hair.
Your hair replacement system gets held in place with medical-grade tape and liquid adhesive, both of which are kind to your skin. You can easily replace the tape and glue at home; our hair replacement experts will demonstrate how you can do this.
One of the main advantages that a hair replacement system from Image & Co has over wigs is they offer a natural-looking solution. Wigs don't typically take into account how hairlines are different on each woman's head.
Plus, a hair replacement system can get made to match your existing hairstyle and length perfectly.
How long does hair replacement last?
One concern that many women new to hair replacement have is durability. As you can imagine, the last thing anyone wants to do is invest in a hair replacement system that doesn't last very long!
The good news is Image & Co's hair replacement solutions are long-lasting alternatives to wigs. Each hair replacement system we offer lasts around two years before needing replacement.
Did you know that synthetic wigs only have a lifespan of around six months? As you can see, it makes more sense to opt for a hair replacement system from Image & Co. Doing so ensures you don't have to worry about regular replacements.
Our skilled hair replacement experts are also best-placed to maintain your hair replacement system. Ideally, you should check in with us every six to eight weeks, similar to what you'd do for getting hair cuts and styling.
When you opt for a hair replacement system, you'll also learn of the best ways to take care of your hair for optimum durability. And if you ever need advice on looking after your hair replacement system, our friendly team is always on hand to address your concerns.
Is hair replacement permanent?
The thing about hair replacement systems is they get designed for easy replacement. One problem with permanent solutions is they can make it challenging to repair or address any issues.
Hair replacement systems get affixed to your head with medical-grade tape and liquid adhesive. Both methods keep your hair replacement system in place, even in extreme environments.
But, the great thing about those two methods is they aren't permanent. That gives you plenty of flexibility if you decide you'd like a new hairstyle, for example, or you need to renew the hair replacement system after two years.
Hair replacement systems versus transplants
Generally, hair replacement systems offer a plethora of advantages over transplants. Firstly, they are perfect for women that may not have enough donor healthy hair follicles.
Secondly, there is no surgery involved with women's hair replacement systems. As with any type of surgery, hair transplants carry the risk of infection and scarring. Of course, the differences don't stop there!
Hair replacement systems offer instant results. With a hair transplant, it can take up to six months before you start seeing the results. And lastly, hair transplants are costly, making them out of reach of most potential recipients.
Book a consultation with Image & Co so you can discuss your women's hair replacement system requirements and options.
"
I was fortunate enough to have a friend who recommended Image & Co after a terrible experience with the NHS and got in touch. Four days later, after attending with my sister, I'm the proud owner of truly beautiful hair courtesy of the most incredible team. Thank you, thank you, thank you. DP x "
Velocity R.D.T