Service Name
Dermal Fillers
Dermal Fillers in Surrey & Hampshire
Image & Co is a hair and beauty salon on the Surrey and Hampshire border and we are thrilled to offer Dermal Fillers from our new Aesthetics Clinic based in Aldershot. If you're after plump and youthful-looking skin and lips – dermal fillers are a simple, non-surgical solution.
Dermal Fillers have become an increasingly popular choice for men and women seeking to enhance their natural beauty in a simple, quick and effective way. If you are considering a treatment using fillers, it is always recommended that you do your research first to ensure you find a professional and competent practitioner who will ensure your needs are met.
At Image & Co, our Aesthetic Practitioner Sam has over 8 years experience working within the Aesthetic industry. Coming from a medical background and working in a top London hospital, she has sound understanding of the anatomy and physiology within our bodies and due to the nature of her work, researching new products, techniques and promoting evidence based practice is second nature. You can be sure you will be getting the very best from your consultations and treatments with Sam at Image & Co.
What are Dermal Fillers?
Dermal Fillers are a gel-like substance made from hyaluronic acid, a natural sugar molecule that is found in most living organisms and has been used in facial aesthetics for many years. It is injected in small amounts into the desired area to fill lines and improve their appearance. It can be used anywhere in the face, but the most popular regions are Lips, Nasolabial and Marionette Lines. At Image & Co we use Restylane – known for its high quality and is a popular choice among many celebrities. Sam can also source other filler products if you have a personal preference.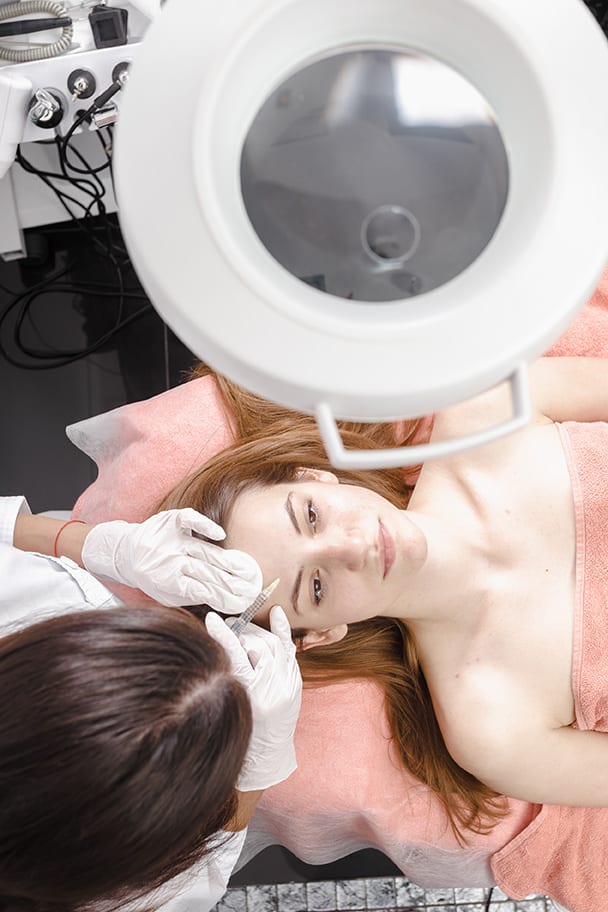 How long do Dermal Fillers last?
Using top quality products, you can expect your Dermal Fillers to last between 8-12 months.
Quite simply it depends on how long your body takes to break down the hyaluronic acid. Various factors may influence the longevity of your treatment such as age, lifestyle, medication and health conditions- however, during your consultation this be discussed and we would advise appropriately on your course of treatment and frequency. Generally most clients request a top-up at 6-8 months to maintain their look.
Why do we need Dermal Fillers?
As our skin ages, we begin losing elasticity in it and our bodies stop producing collagen, both of which are needed for smooth, youthful-looking skin. In order to maintain plump and beautiful skin you may wish to book a series of treatments which can be discussed at your consultation.
The sad truth is, the experts agree that we start to lose collagen from as young as 25, with both your collagen and elastin levels decreasing steadily at a rate of 2% every year. By the time you leave your twenties behind you, your body will have stopped producing it altogether.
So what can you do to add volume and make sure you remain fresh-faced? Dermal fillers. These non-surgical little gel boosts are the filler treatments that give you back your lost youth.
What does the treatment involve?
Dermal filler is a cosmetic procedure that helps to reduce facial lines, fill out deep wrinkles and restore or enhance areas of your face and lips.
As we age, our faces lose collagen, elastin & subcutaneous fat, the original elements that give us a youthful appearance. Dermal fillers are made up of the same biological components in our skin, designed to replace the lost HA (Hyaluronic Acid) which is necessary for hydration and volume within our skin.
The Dermal Filler Gel is injected into different depths of the Dermal Layer, dependant on the type of lines to be treated. We use products specifically created to target different areas of the face as the various dermal layers respond to specific molecule sizes.
On arrival to Image & Co, you can expect to feel welcomed into a relaxed and friendly environment. We have a bespoke aesthetics room, where Sam will greet you and discuss your needs before preparing for treatment. The treatment in total usually takes 1 hour, this includes a consultation, skin prep and numbing, the treatment followed by aftercare advice.
It is perfectly normal to experience redness, bruising and swelling which usually resolves within 3 -5 days. Occasionally this can last longer, so we do advise the final result can be truly seen after 3 weeks.
It can:
Plump and shape lips
Fill deep wrinkles and lines
Even out contours
Soften creases around your mouth and nose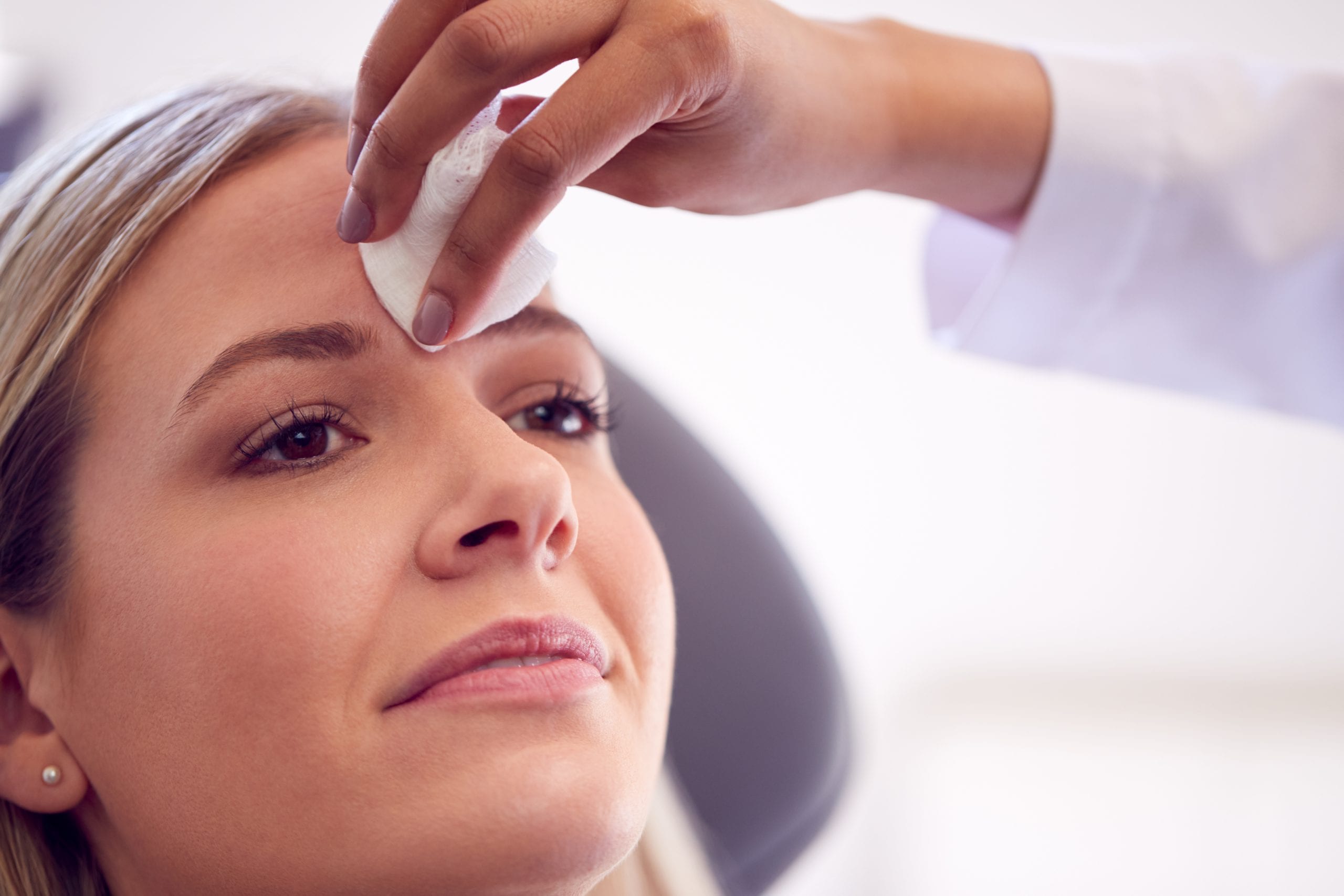 Are dermal fillers safe?
Dermal fillers are considered safe, but you should be aware that they could have side effects.
Side effects aren't the same as an allergic reaction. Side effects are to be expected and are usually just mild and temporary. Side effects usually show up straight away and disappear shortly afterwards, with all of them going away fully within 3 weeks.
Side effects can include, but aren't limited to:
Redness – There can be some redness after the initial treatment. A clean, light make-up can be applied to cover any redness.
Swelling – Do not expose the treated area to intense heat (e.g. solarium and sunbathing) or to extreme cold for one week following treatment. A clean cool pack can be applied directly to the treated area to help reduce swelling.
Bruising – If you are using aspirin, warfarin or similar medication, be aware that the likelihood of bruising may increase.
Tenderness – It is perfectly normal to experience discomfort and tenderness after the procedure. However, the Dermal Fillers we use contain local anaesthetic to ensure maximum comfort for you post procedure.
What are the best dermal fillers?
There are different types of dermal fillers available, with the most prevalent being hyaluronic acid. This is a natural substance found in our bodies, in particular in our eyes, our joints and our skin.
The best thing about hyaluronic acid and why it's so popular in the cosmetic industry, is that it can hold up to 1000 times its own weight in water, making it an incredibly hydrating solution. Just the thing for plumping up and refreshing tired, dehydrated skin.
Another benefit of the Dermal Fillers we use is that they stimulate collagen production. When it's injected into the face it triggers the body to produce collagen, resulting in a much longer and more natural looking effect.
Don't confuse Botox with Dermal fillers – Botox isn't a filler, it's a solution that is used to target certain facial muscles from moving thereby preventing the creation of wrinkles. Dermal fillers plump the lines and wrinkles that are already there. Together these treatments can work well together to prevent and treat your skin resulting in a youthful look.
Loved the immediate difference. Still loving it now it's settled down! And very pleased with the professional service.
Linda Anderson