Service Name
Microblading
Microblading
If you're tired of lacklustre eyebrows. If you've overplucked your eyebrows. If you suffer from alopecia. If you have lost your eyebrows through operations, accidents, illness or treatment. If you just want fuller, better-shaped eyebrows. Then you've come to the right place.
Image & Co offers eyebrow micro-blading, a semi-permanent cosmetic treatment, in our salon on the Surrey and Hampshire border, and it's one of our most popular beauty treatments.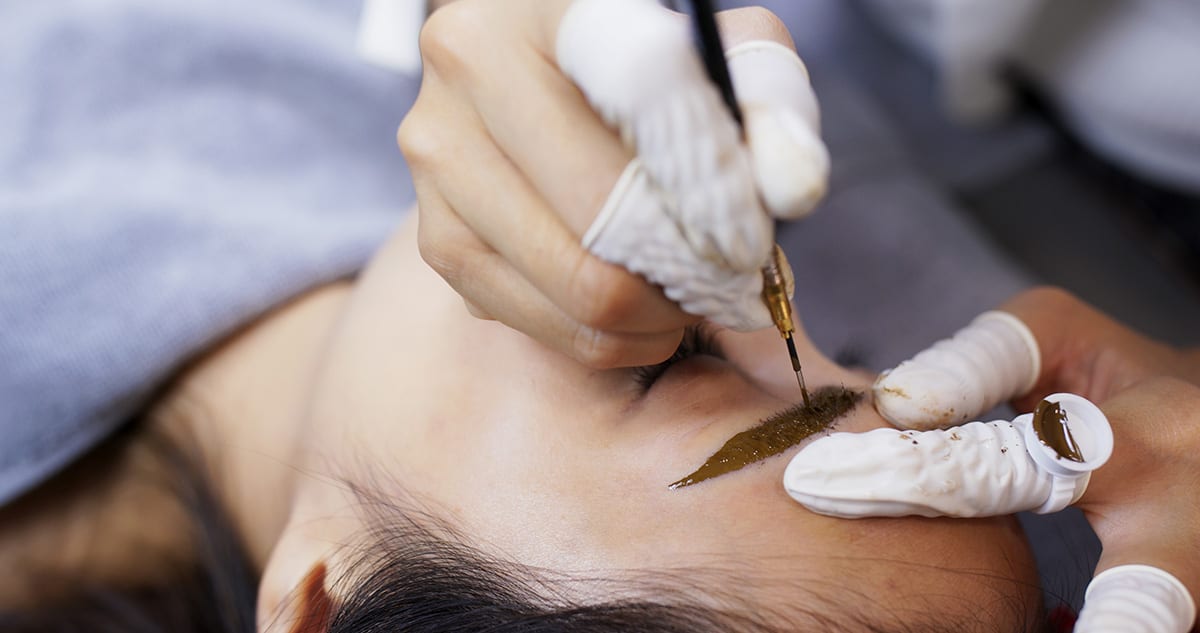 What is Microblading and how long does it last?
Micro-blading eyebrows is the response to the 90s obsession with barely-there, pencil-thin eyebrows. This outdated trend decimated many a once full brow, relegating them to a wispy existence that offers no shape or substance.
Not any more.
Microblading is the hasslefree solution to fake, full eyebrows that don't need to be drawn on every day. Microblading results in totally natural-looking eyebrows that are created bespoke to every client's face.
Microblading can last between 12-18 months, depending on your skin type and how well you look after your eyebrows. People who are more prone to oily skin will find their eyebrows will fade quicker than those with normal skin.
In order to keep your microbladed eyebrows looking tip-top, we suggest getting a top-up every year or so, otherwise, the pigment will fade and you'll go back to your original eyebrows. If this is what you want, don't worry, this is what you'll get – there is no scarring following microblading nor is there any discolouration from the pigment. If you leave your eyebrows to go back to how they were originally, you will never know you had them microbladed.
If after you get your eyebrows microbladed and you don't like the end result, while microblading may fall into the semi-permanent makeup category, this is a misnomer, the pigment can be removed using a salt/saline solution.
It's worth pointing out that your eyebrows will be at their darkest – up to 40% darker – for the first 2 weeks following your microblading treatment, until the scabs form and flake off. If you find yourself with incredibly dark eyebrows a couple of days after your treatment DON'T PANIC this is perfectly normal and will naturally fade within 10 days to two weeks.
Who should not do Microblading?
Anyone who is sensitive or allergic to certain pigments, anyone who is pregnant or breastfeeding, or anyone using blood thinning medicine should refrain from microblading eyebrows. If you aren't sure, it's best to seek professional medical advice prior to receiving treatment.
What exactly is Microblading?
This semi-permanent makeup solution is a type of eyebrow architecture that is achieved by stroking a pen-like tool with a sloped blade for a nib, containing 10-12 tiny needles, across your skin.
The needles don't actually penetrate your skin, they simply scratch the top layer of epidermis, similar to a paper cut, implanting medical grade pigment in the skin with every featherlight stroke, leaving a swathe of fine, realistic looking natural hair like strokes in its wake.
What is the microblading technique:
First off you choose the colour and the shape of your desired eyebrows. Your technician will determine the best shape for your finished brows taking into account your face shape, the symmetry of your face and any prominent facial features
Then the eyebrows are tidied up, and the brow area is shaped and cleaned and prepared for treatment.
The eyebrow area is numbed with a topical ointment, it can take up to 40 mins to take effect.
When the eyebrow area is numb, the microblading needling process can begin. Light featherweight hair strokes gently implant the pigment to create natural looking hairs. Each stroke of the pen-like tool scratches the skin and the pigment soaks into the scratch, settling in the line.
If there is any discomfort at all during this process, more numbing ointment will be applied to the area.
A final application of pigment is smoothed over the eyebrows and left to seep into the scratches for 5 minutes, before the eyebrows are cleaned.
The whole microblading eyebrows process doesn't last very long. Once the numbing ointment takes effect, your technician will usually be done in under an hour.
If necessary, you can have a microblading treatment top up session to fill in any gaps where the pigment didn't take or where the scratches didn't heal evenly.
Sometimes, you might feel you need a darker pigment, in which case, it's best to do this after you've had your first treatment – make a follow up appointment. Remember, it's easier to go darker if the initial pigment is too light. It's not so easy to go lighter if the initial treatment is too dark.
Is Microblading a tattoo?
Microblading isn't a tattoo because the pen-like tool doesn't penetrate the skin to deliver the pigment. It merely scratches the surface of the skin, leaving hair-like strokes as the pen is swept across the eyebrows.
Tattoos use needles that deliver ink deep into the skin, making it permanent. Microblading only scrapes the surface of your skin, meaning it isn't permanent and the colour fades much quicker, usually within 18 months.
Why is microblading not the same as having your eyebrows tattooed? Because when you have your brows tattooed, the technician uses a colour block to achieve the look, whereas when you opt for microblading, the pen-like tool leaves hair-like strokes of ink behind, resulting in much more natural-looking eyebrows, far finer than a tattoo.
Microblading makes a scratching noise as the technician draws the pen-like tool over your eyebrows, it doesn't buzz like a tattoo gun.
Microblading doesn't hurt as tattooing does – it's more like a sensation than pain. The numbing ointment removes any pain that might be caused by the pen-like tool scratching the skin. The thing most people find uncomfortable is the sound of the needles scraping and scratching the skin.
How to care for microbladed eyebrows
Everything you need to know before microblading treatment:
Don't wax, pluck or tweeze your eyebrows at least one week before treatment.
Don't use sunbeds or sunbathe at least two weeks before treatment.
Don't have a chemical peel or any sort of facial at least two weeks before treatment.
Don't use retinol or any form of Vitamin A products at least four weeks before treatment.
Do not do any exercise on the day of your treatment.
Don't have any botox at least three weeks before your treatment.
Don't take any blood thinners at least one week before your treatment, including fish oil or Vitamin E, aspirin or ibuprofen.
Don't drink any alcohol at least 48 hours before your treatment.
Don't drink coffee at least two hours before your treatment.
Everything you need to know after your microblade treatment:
Wash your eyebrows very gently with water and an antibacterial soap twice a day. Make sure you wash off all the soap and gently pat your eyebrows dry, don't rub them, you don't want to scrub off any pigment before the skin has healed.
Don't use any cleansers or skin creams that contain acids or exfoliants – you don't want to accidently scrub off any pigment before your skin has healed.
Apply a very small amount of rosehip oil to each eyebrow after washing to enable healing.
Make sure you use a clean pillowcase after treatment, you don't want dirt getting in your eyebrows.
Similarly, don't use any makeup or skincare lotions on your eyebrows until they have healed (about 10 days).
Don't pick the scabs.
Don't have any botox or chemical peel or any form of facial for at least four weeks following treatment.
Avoid doing any exercise at least one week following treatment.
Stay out of the sun.
Don't go swimming and avoid long, hot showers for at least 10 days following treatment.
Our practitioners are trained at the prestigious Dr Bob Khana institute in Reading. Facial aesthetics VTCT Level 4 qualification in Micropigmentation at the East London Beauty Academy.
I had Microblading with Sam, who took her time explaining everything in detail about the process & consulted on every option. Mild pain, but Sam made it very relaxing with nice music playing and candles lit. She does use a numbing cream to help any discomfort. I now have beautiful brows with no make up on. I would highly recommend – professional and extremely skilled. I LOVE my new brows, thank you!
Katy Olivia